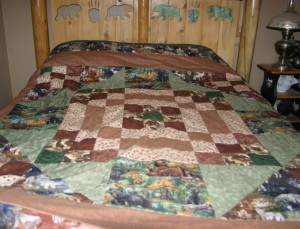 It's not feel­ing like fall just yet at Our Little House, quite the oppo­site, but since we had snow in May and every­thing seems to be run­ning late, we fig­ure it should cool down by the end of the month.
The weather may not be telling me it's time for fall décor, but the cal­en­dar is and that's good enough for me.
I try to change a few things up at least a cou­ple of times a year, I think it's impor­tant in a lit­tle house, espe­cially, as we don't have a lot of lat­i­tude when it comes to decorating.
A cou­ple of weeks ago, our old neigh­bors from the city came down for a quick visit, just to see our house, really, as they had never been.
I hadn't got­ten out the sum­mer com­forter I use as a bed­spread and we had really just been using an old cheap bed­spread my hus­band used in his first apart­ment in 1983.
It dou­bles as a light­weight blan­ket for me in the sum­mer and with Molly being so ill, I didn't have to worry about any accidents.
So when our neigh­bors popped in for their visit, I got out a "new" quilt my aunt made for us when we built Our Little House 10 years ago.
I had never used it because I know the value of such a hand­made quilt, both mon­e­tar­ily and sentimentally.
However, I felt the time is right to start using it and I think it will make a great fall/winter spread for the bed this year.
We're also about ready to paint all of the rooms except the bed­room (which was done when Dale was laid off 5 years ago), so that will help change up the look through­out the house.
Do you change your décor with the seasons?