Black Bear Sighting Near Our Little House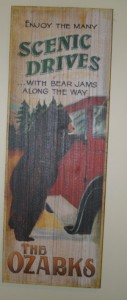 As we enter the dog days of August, it's not your typical long, hot days here. We're having unseasonably cooler and rainy weather (although the humidity remains) for this time of year.
As well, bears are on our mind, instead of dog days.
No, not the type of bears found in my cabin décor, but real, honest to goodness black bears.
My aunt, who lives about ¼ down the road, called on Sunday to say they had just seen a juvenile bear climb up a tree near their deck to try to swipe a suet cake they had out for the birds.
They've been here full time since 1999 and although we knew bears are here, somewhere, this is the first sighting for either of us.
She wanted to warn me as she didn't know which direction the bear had gone and she was afraid for our dogs.
We've been on alert, but so far, no sightings.
It reminds me of when I heard what we were told was a mountain lion three years ago. Our Emma then went missing that summer and I saw the mountain lion crossing the road about 1 mile from Our Little House.
I want to see a bear, but I want us all to remain safe.
In the meantime, here is a recipe I made up later that day from a few things I had hanging out in our pantry.
It's not a black bear recipe, but a black bean recipe.
It's a good Meatless Monday for a cool, rainy night.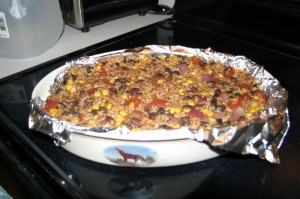 Living Large Black Bean and Corn Vegan Casserole
1 cup cooked brown rice
1 can diced organic tomatoes
1 can organic sweet corn
1 can organic black beans
1 onion, diced
2 garlic gloves, pressed
1 tblsp. olive oil
2 tblsp. taco seasoning (we use Spanish Gardens, found in Kansas City)
1 tsp. crushed red pepper
1 tblsp. freshly ground black pepper
1 tblsp. McCormick's Mexican spice blend (optional for vegetarian instead of vegan dish)
1 cup organic grated Mexican blend cheese
Preheat oven to 350 degrees. Cook brown rice and set aside. Heat olive oil in a skillet. Add diced onions and press garlic into the pan. Cook until onions are translucent. Add rice and onion/garlic mixture to large bowl. Add corn, beans, tomatoes and spices. Mix well. Place mixture in a large casserole dish. You can add cheese and bake on top (optional) or put cheese on individual servings when it comes out of the oven. Bake just about 20 minutes or until heated through. Serve with warm tortillas or chips.
Have you ever seen a black bear, mountain lion or other large wildlife? Were you terrified?