A Little Cabin Dream Comes True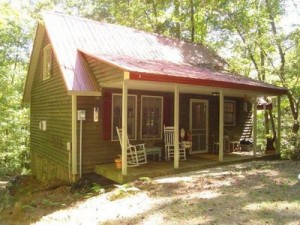 I was so excited for my friend J, who is making her little house dreams come true, when she posted a photo of her new 640 sq. ft.  little cabin in the mountains.
J. believes in leaving as small of a footprint on our earth as possible, a principle we also embrace here at Our Little House.
I asked her to write a few words about how she made her dream a reality, hoping it would inspire some others in our community:
 "I've been wanting to buy a little cabin since  2007.
My partner  and I started a "Farm Fund" and had money automatically withdrawn from our accounts every week to save for a down payment. We also downsized to a smaller house in the city to cut our costs.
We spent about 2 years looking at listings online to get an idea of what we could get for our budget — and knowing we'd have to be flexible.
Our #1 priority was a home with at least five acres — everything else was optional. When this listing came on the market, it felt too good to be true. It's on 10 acres and has several other items on our wish list like a screened porch, a wood stove and a creek on the property.
It was outside of our target area and the land is steeper and more wooded than we'd like, but we ended up liking the location way more than we imagined.
My best advice is to save hard, set a budget, know what is a must have and what is on the wish list and have faith that you can make it happen."
Thank you, J, for sharing your journey with us. Congratulations and good luck in your new retreat!
Have you put together a plan for your own little house?