Our Little House Is Emptier, But Not Empty
I wrote last week that our lives had been exceptionally crazy over the previous 10 days.
On Saturday, we had to say goodbye to our little red wiener dog, Molly. Through the power of modern science and lots of love, we helped her over the past two years through a heart ailment. Her vet gave her 6 months in July 2011, and she defied all of their dire predictions.
Until about 2 weeks ago, she maintained a good quality of life. Like many dachshunds, Molly had a seemingly insatiable appetite. We always knew when she wouldn't eat there would be something terribly wrong.
As treatment after treatment proved ineffective the last week, we knew we could not ask her to fight any longer.
Molly's journey with us began when Dale's aunt called and asked me to take a dachshund that belonged to a friend of theirs. She was concerned; these people had gotten Molly as an impulse purchase, and after they decided she wasn't what they wanted, they confined her to a 4 foot run in their backyard where she bred at will with a much larger dog.
I wrote about my experience with that owner recently for Pet360.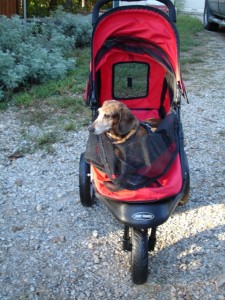 When Molly joined our family, she was also fearful, especially of thunderstorms and men, including Dale. But thanks to his natural loving disposition and lots of patience, he eventually helped bring out hers, too.
Molly loved to give kissies (licks), chew on rawhides and solve the riddle of Kong toys or roll her kibble ball around the party deck and retrieve the treats. Her favorite pastime, aside from kissing, was eating.
She also enjoyed barking at the large predatory birds that fly over Our Little House. We could be on the deck or in the car and yell, "Bird!" and she would jump in the air barking. Sometimes she saw them even before we could.
When she couldn't walk the road with the other dogs anymore, she liked being treated like the queen she was, taking rides in her stroller.
As with any animal loving family, I suppose, our long marriage is marked by the pets who accompanied that decade and represent eras in our lives.
My Maltese Angel, Ana and Tuffi, given to me by Dale as high school graduation gift, represent the beginning of our adult lives. Hershey, who was our first rescue and only dog child after the Maltese, was with us during a fun and carefree time when we spent a lot of time boating and camping.
I will always associate Emma with the years we had our horses, as she not only loved going to the barn with me everyday, she once saved my life from a charging mare.
In addition to being that one last connection we had to that favorite aunt, who died in 2007, Molly represents the beginning of our lives at Our Little House.
She joined our family as our third rescue in 2003, two months before we began construction. She rode with us on countless trips down here from Kansas City, content in the backseat with her sister, Emma, and a rawhide.
Almost to the very end, she always looked to see if there was a rawhide waiting for her in the backseat of the truck, even though our weekend trips ended six years ago.
She was part of our pack of three until Sade joined us when we moved full time to Our Little House, and eventually she was the senior member of the 6-pack.
Typical of dachshunds, she was the sweetest dog on the planet, yet bossy when she wanted something. She could boss Emma out of a rawhide, make Dakota move from her spot on the couch and tell us about it when she wanted a cracker or her water bowl was empty.
Since Saturday, all of us, including the dogs, have been trying to adjust without this larger than life personality in our small space.
Each dog has taken on different behavioral issues as the pack adjusts.
Of course, it has been hard on Dale and I as well. No matter how many times we go through this, it never gets easier. Dale spent quite a bit of time the first four years lying on the floor near the sofa, couch skirt held up, peering into the dark space underneath where Molly would hide when he came home, coaxing her to come to him.
When she finally decided he was ok, about the time we moved here full time, they were best buds (it helped he gave her anything her heart desired).
The 6-pack is now the Fearless Five.
They're helping us through our grief and reminding us that Our Little House is emptier, but is not empty, and so are all of our hearts.
What are your favorite memories of a furkid?