A Big Butt Problem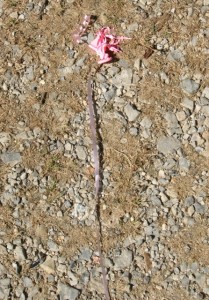 If you're of a certain age, you will most likely remember the television ads of the 1970s that showed the Native American crying over the trash left in what was a pristine setting.
A child of the 60s and 70s, I was taught young to try to conserve energy by turning off all of the lights in the house when I wasn't in a room and not to litter.
That's why it is so maddening to walk down our road with the dogs taking in as much unspoiled nature as possible and see trash.
On a half mile stretch of our road yesterday, I picked up no less than a half dozen newly tossed cigarette butts and the remnants of a blown out balloon on a string.
The cigarette butts are no doubt left behind by guests of our new full-time neighbors (the one who ran over Abbi with their car) as they do not belong to the other neighbor at this end of the road, nor do they belong to my aunt, who despises this kind of trash as much as we do (although she is a smoker).
The balloon, which was lying in the middle of the road as if it fell out of the sky, most likely did. It was probably launched at a balloon release as a way to celebrate or remember someone.
While I agree it is beautiful and also symbolic to watch a balloon fly away until you can no longer see it, they have to come down someplace and that someplace is typically in nature, where birds or other wildlife will ingest this trash. Balloons are not biodegradable.
You might also wonder what the big deal is about a few cigarette butts lying around.
The truth is that cigarette butt filters are also not biodegradable; they take many years to decompose in the natural environment. In the meantime, once again, birds and other wildlife can ingest this waste.
If I let it go, the problem will no doubt grow. A half dozen in just a few days (these are regular visitors to the neighbor's house), the next thing you know, it will start looking like a city street, with them everywhere.
When I told my husband I was going to pick up these things, he said, "then what will you do with them?"
I thought about posting the baggie of cigarette butts at the top of our road next to the mailboxes with a note that says, "Neighbors: Let's keep our road clean and pristine. Please don't litter."
Is it too much to ask? What would you do?