The Top Ten Signs of Spring
At the time I'm writing this post at Our Little House, it is cold and blustery and not at all like spring, I'm also unusually tired from the start of Daylight Savings.
So I thought I would have some fun with a post today and hopefully, give us all something to look forward to in The Top 10 Signs Spring is Near:
10. All of the stores have their Easter stuff out, who can't think of spring when seeing yellow and pink plastic eggs everywhere?
9. Instead of cold and more cold, we are getting one warm day, warm enough to make us want to throw some water on the wood burning stove by 2 p.m., open the windows and walk around outside in flip flops (no matter the next day is once again 30 degrees with snow flurries).
8. Instead of ice, we're getting rain in regular amounts, which is a good thing.
7. We're all walking zombies thanks to Daylight Savings Time.
6. The garden centers at the local Big Box stores are all stocked. How do they keep those plants from frost at night!?
5. It's almost St. Patrick's Day, the day of planting potatoes.
4. It's still dark at 7 a.m., but light at 7 p.m.
3. The people of Wal-Mart are shopping in their tank tops and shorts, even though it is only warm 1-2 days of 7.
2. The dogs have ticks already.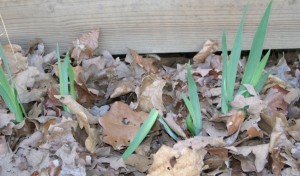 This is the #1 sign of spring here, the lilies are sprouting!
What are your sure signs spring is just around the corner?