It May be Spring on the Calendar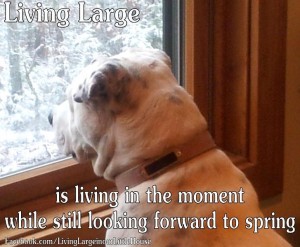 The calendar may say it is officially spring, but here in northern Arkansas, as I write this, I'm watching snow fall.
For the past few days, the weather people on the local news have been all abuzz about how big of a storm we might get.
As much as a week ago, they were talking about "significant accumulation."
Into the new week, it was "a major spring storm" and for the past couple of days, they've been showing graphics and statistics about late March snows with measurable accumulations.
As the days progressed and the line of heavy snow moved north and then south and back again twice with "heavy" meaning as much as 7 inches, we've felt our anxiety grow.
You see, it isn't easy to get out of Campbell Town when there is snow on the ground. Dale has to go the long way around to get to work, which adds an extra hour and 30 miles to his drive.
If neither of us had to drive in it, we could relax and just soak in the warmth of the woodburning stove .
And then I found this photo of Sade, taken a couple of years ago as she sat, seemingly just contemplating the falling snow, which was really measurable on that particular day.
True, she doesn't have to worry about driving on mountain roads in it, but it doesn't really do any good to worry about it anyway. We should all just be able to live in the moment, no matter what that moment brings.
When the latest weather map added in the dreaded pink colors of freezing rain and ice last night, I remained calm.
Sade's advice for Living Large?
Live in the moment while still looking forward to spring.
Is your weather spring-like yet?