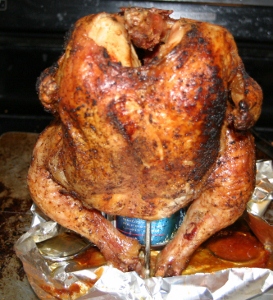 Sundays are spe­cial din­ner nights around Our Little House, another throw­back from my child­hood. Since my father worked two jobs through­out most of my child­hood, it was the rare day when we all got to sit down to a real (and not the boxed or frozen) home cooked meal together.
Dale works long hours and though he is home through­out the week on most nights for din­ner, we don't have time to really take plea­sure in the cook­ing together.
On Sunday, we typ­i­cally split the din­ner cook­ing. He usu­ally does some­thing on the grill, and I cook veg­gies, rice or pota­toes. Or, when the weather per­mits, we cook every­thing on the grill or do Dutch oven cook­ing together.
If I'm cook­ing inside, he will help by chop­ping the veg­gies or trim­ming the meat.
We so look for­ward to our great Sunday cre­ations, we typ­i­cally joke on errand day at the store, "What kind of a crappy Sunday meal are we going to whip up this week!?"
This past week­end, we did Beer Butt Chicken, some­thing we hadn't done in a while and it was great.
I've writ­ten about many of our var­i­ous Sunday din­ners, so I thought I would com­pile a list of our favorites, all of which include the recipes.
Enjoy!
Brussels Sprouts (this will hook even the most ardent B.S. hater!)
Do you have favorite Sunday dinners?