Sunday Meals at Our Little House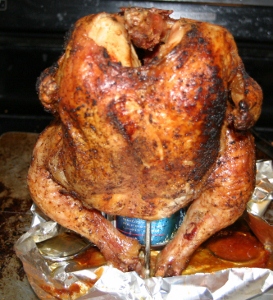 Sundays are special dinner nights around Our Little House, another throwback from my childhood. Since my father worked two jobs throughout most of my childhood, it was the rare day when we all got to sit down to a real (and not the boxed or frozen) home cooked meal together.
Dale works long hours and though he is home throughout the week on most nights for dinner, we don't have time to really take pleasure in the cooking together.
On Sunday, we typically split the dinner cooking. He usually does something on the grill, and I cook veggies, rice or potatoes. Or, when the weather permits, we cook everything on the grill or do Dutch oven cooking together.
If I'm cooking inside, he will help by chopping the veggies or trimming the meat.
We so look forward to our great Sunday creations, we typically joke on errand day at the store, "What kind of a crappy Sunday meal are we going to whip up this week!?"
This past weekend, we did Beer Butt Chicken, something we hadn't done in a while and it was great.
I've written about many of our various Sunday dinners, so I thought I would compile a list of our favorites, all of which include the recipes.
Enjoy!
Brussels Sprouts (this will hook even the most ardent B.S. hater!)
Do you have favorite Sunday dinners?