Multipurpose Furniture for Small House Living
Some of our community on our Living Large Facebook page asked me to share some of my favorite multi-function furniture here on the blog.
I wrote about some of this furniture in posts back in 2010, but it is worth revisiting the subject, since making furniture multi-functional is very important in a small home.
First, here is some of our small space furniture that serves multi-functions in Our Little House:
In both Our Little House and The Belle Writer's Studio, we have futons with upgraded mattresses. This allows us a place to sit while watching television and serves a dual purpose in that it allows guests a place to sleep when they visit. Before we moved to Our Little House full time, we used the futon in the bedroom, where I could fold it up when it was not being used as a bed and the bedroom doubled as office space.
Our kitchen table is a small round table that normally seats two people, but can seat up to four when the drop leaves are extended.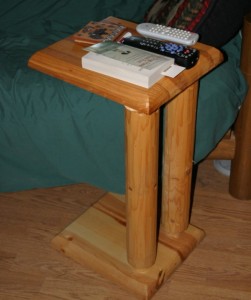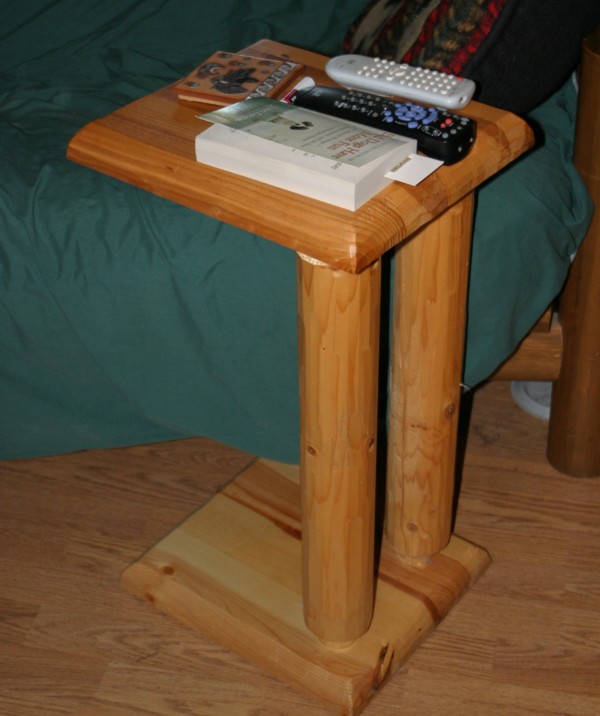 Since I don't have room next to the futon for a side table, this sofa table works perfectly to hold my drinks, television remote, phone and reading material while I'm sitting on the sofa (futon). When not in use, it conveniently slides under the sofa out of the way. I've also found another use for it – I put my house shoes and athletic shoes on the base, so they are also out of the way, but convenient to get to when I need them!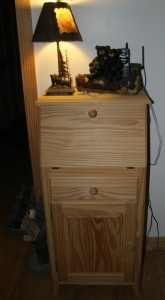 This little writing desk is great because it has plenty of storage for our bills, stamps and other papers and it makes them handy to get to, but also keeps them out of the way. It also has storage in the bottom, which allows me to store my purse, the corded phone (needed when we lose power), flashlights and other necessary emergency items.

These combination side table/lamps are great in our small space. This one is in The Belle Writer's Studio and was once a Christmas gift to my mother. We also have one that's just a little different next to Dale's chair in Our Little House. Both of them have storage below for magazines or books.
Here are some other links I found that may give you some ideas for multi-purpose furniture in a small space:
A toy box repurposed as a bench where a person could change or take off shoes. Inside is a laundry hamper.
Repurposed wine barrels: These stools could be used if you have a breakfast bar in a small kitchen and double as extra seating in the living room for extra guests. I like this repurposed furniture and the coat rack, too.
Roll top desk: I couldn't find a desk like ours, but did find this one, which looks big enough to hold important papers, as well as doubling as a computer desk where you might sit with a laptop.
For urban dwellers, or for people who have homes with more of a modern edge, here are some sites that might offer some ideas:
Do you have a favorite multifunctional piece of furniture that would work in a small home?