Homemade Goodness: Crock Pot Stuffed Green Peppers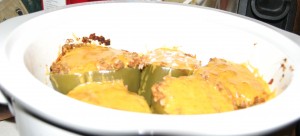 Someone on our Living Large Facebook page asked me if the way I cook has changed since moving to Our Little House.
Let's just say it has, but it has more to do with our location than space.
While I become frustrated sometimes for lack of counter space, I've learned to cook much better here, with a larger variety of fresh ingredients, which has resulted in a better variety of foods.
We're 45 minutes from the nearest town with restaurants, we ate out frequently in the city; and we're also more conscious of what we eat. Cooking at home is just better for us.
Eating out only once every other week has given me a lot of practice and obviously, it's paid off. One of my husband's co-workers said finding out what "good looking, home cooking" is in his lunch every day is a daily main topic of lunch table conversation.
That being said, my cooking has been a process of evolution.
My mother wasn't a bad cook, but I was a midlife child and by the time I came along, she was over spending a lot of time in the kitchen making things from scratch.
While she still made some things from scratch, like her lasagna, boxed and frozen foods were very popular, she was just too busy with her art and crafts or her gardens, things she hadn't had time for during her young adult years, to spend hours on a meal when she could make some spaghetti with a jar of sauce or pop a frozen dinner in the oven (and later the microwave).
I don't begrudge her that, but I was a teenager before I learned that Chinese food is much better when it doesn't come from a can and believe it or not, I didn't begin to use fresh garlic in recipes until we moved to Our Little House.
One of the items my mother used to buy frozen – and I followed suit – was stuffed green peppers.
The ones I grew up eating were fine, but when Dale was laid off in late 2008, a lay off which tested our finances until mid-2010, I began to look for cheaper ways to cook. One of the things I learned was that it was usually less expensive to make something from scratch, rather than buy processed, frozen foods.
While looking through my crockpot cooking book, I found a recipe for stuffed green peppers and decided to give it a try. While it was ok, Dale and I felt it needed more flavor, so I modified the recipe and came up with this yummy dish that is now one of our favorites:
4-5 large green peppers (flat bottoms preferable) (we use organic)
1 pound of ground round (we use grass fed, free range organic, but vegetarians could use several portabella mushrooms instead)
3 cloves of fresh garlic, pressed
1 large onion, diced
½ tsp. red pepper flakes
1 tsp. McCormick's Italian seasoning
1 can salt free or low sodium tomato sauce
1 cup cooked rice (your choice, we sometimes use jasmine)
Shredded cheese for topping (your choice)
Brown your meat with your onions, pressed garlic and red pepper flakes. Add the tomato sauce and Italian seasoning, stir to a simmer. Cook your rice. Wash the peppers, cut off the tops and clean the peppers of seeds. Mix the rice into the meat sauce mixture. Place the peppers in a large crock pot and fill them with the meat sauce/rice filling. I put just a little water in the bottom of the pot so it does not dry out. Cook in the crock pot on low for 6 hours or high for 3-4 hours. About 10 minutes before serving, sprinkle with shredded cheese and allow it to melt while still in the pot. Serve with warm rolls.
I made extra this last time and froze them, hoping to get a quick, but healthy frozen meal out of it one night when I don't have the time to cook.
Have you ever converted a favorite dish you previously bought frozen to home cooked?