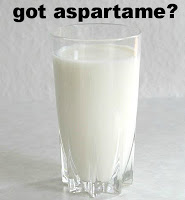 For the past week or so, I've been see­ing posts on Facebook about the pro­posal to put aspar­tame in milk and other dairy prod­ucts with­out labeling.
Aspartame, as you may know, is an arti­fi­cial sweet­ener com­monly used in Nutrasweet and Equal in the United States.
In the 1980s, when we first learned that many milk and dairy prod­ucts con­tained growth hor­mones, my mother and I called the locally owned dairy where our milk orig­i­nated, and they assured us their cows were not tak­ing hormones.
Whew. But when that dairy sold to another cor­po­ra­tion, we could no longer trust that and we started buy­ing organic milk.
It wasn't until many years later, when I started read­ing labels more fre­quently, that we real­ized that milk also con­tains sugar.
Now the pow­er­ful dairy lobby is peti­tion­ing the Food and Drug Administration to allow them to put arti­fi­cial sweet­en­ers in milk and dairy prod­ucts and not tell the public.
I'm not a con­spir­acy the­o­rist. I believe sci­ence has a place in help­ing human­ity develop safe med­i­cine and safe food.
However, as a per­son who believes in sci­ence, I also need to see proof that some­thing is safe, and I would also like to make informed deci­sions about what I eat, which means the prod­ucts I buy should have the proper labeling.
According to this post on CNN, aspar­tame has been deemed safe by the FDA. But I've also read con­flict­ing stud­ies that sug­gest otherwise.
As with GMO, I can­not con­clu­sively say that aspar­tame is not safe, but I choose not to par­take in it, and I feel I have the right to know when a prod­uct con­tains the sweetener.
If you feel you have the right to know if dairy prod­ucts you're con­sum­ing con­tain aspar­tame, fill out this gov­ern­ment com­ment form for the FDA.
Do you think you have the right to know if the prod­ucts you buy for you and your chil­dren con­tain aspartame?