Aspartame in Milk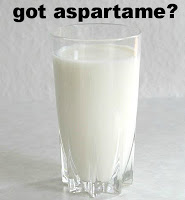 For the past week or so, I've been seeing posts on Facebook about the proposal to put aspartame in milk and other dairy products without labeling.
Aspartame, as you may know, is an artificial sweetener commonly used in Nutrasweet and Equal in the United States.
In the 1980s, when we first learned that many milk and dairy products contained growth hormones, my mother and I called the locally owned dairy where our milk originated, and they assured us their cows were not taking hormones.
Whew. But when that dairy sold to another corporation, we could no longer trust that and we started buying organic milk.
It wasn't until many years later, when I started reading labels more frequently, that we realized that milk also contains sugar.
Now the powerful dairy lobby is petitioning the Food and Drug Administration to allow them to put artificial sweeteners in milk and dairy products and not tell the public.
I'm not a conspiracy theorist. I believe science has a place in helping humanity develop safe medicine and safe food.
However, as a person who believes in science, I also need to see proof that something is safe, and I would also like to make informed decisions about what I eat, which means the products I buy should have the proper labeling.
According to this post on CNN, aspartame has been deemed safe by the FDA. But I've also read conflicting studies that suggest otherwise.
As with GMO, I cannot conclusively say that aspartame is not safe, but I choose not to partake in it, and I feel I have the right to know when a product contains the sweetener.
If you feel you have the right to know if dairy products you're consuming contain aspartame, fill out this government comment form for the FDA.
Do you think you have the right to know if the products you buy for you and your children contain aspartame?