Our Wild Entertainment
I would like to thank everyone for participating in the giveaway for "The Organized Kitchen!" Nanci Bliss-Kelley, please contact me at ozarkmountains.com with your snail mail address, you're our lucky winner! Congratulations!
__________________________________________________________________________________________________________
OK, the secret is out. It really doesn't take much to entertain us.
We haven't bought each other "big" Christmas gifts for a long time. There was a time in our lives when we would spend hundreds of dollars on each other on gifts.
One Christmas during my corporate years, Dale gave me $500 worth of gift cards. I did have a really good time with them shopping the sales after Christmas, but we just don't need "stuff" anymore.
Since moving to Our Little House, during the holidays we could afford it, we decided to spend only moderately and get something we both could enjoy.
We do love watching television series and movies on DVD, so last year, it was a small (because who needs a big screen in a little house?) flat screen.
The only two things I really wanted is a 4-wheeler to go up and get the mail and a wild life cam.
Since we didn't win the lottery, the wildlife cam won.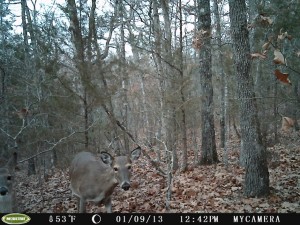 We bought a bag of deer corn last weekend and off we trotted through the woods, far enough away from the house so the wildlife wouldn't be spooked by the dogs – or so we thought.
We allowed Chloe, our rescue lab/pit mix to follow us, which was a mistake.
For the next two days, all we got photos of was Chloe coming back to the spot to nibble some corn (and probably crack her teeth).
On day 3, Dale hurried home from work and brought the camera in before darkness fell.
We were both so giddy to see if we had anything, we were practically shaking.
When the note popped up on the screen showing "40 photos downloading," I could hardly wait to start the slideshow.
We scored! A small herd of does with a baby came along once during the night and again the next morning, and then there was, of course, Chloe, again.
We were going to wait to reset the camera over the weekend, but we wanted to keep the deer and anything else coming back.
We trotted out to the woods, even knowing it would be dark before we could get back.
We did set it a little lower on a tree trunk this time and also put the corn further away from the camera to get a full view of the animals and herds.
Our dream is to "capture" the elusive mountain lion and a black bear, though we'll take turkey and anything that wanders in front of the lens.
Like I said, it doesn't take much to entertain us.
Have you ever had a wildlife camera? What's the coolest picture you've gotten?