I would like to thank every­one for par­tic­i­pat­ing in the give­away for "The Organized Kitchen!" Nanci Bliss-Kelley, please con­tact me at ozark​moun​tains​.com with your snail mail address, you're our lucky win­ner! Congratulations!
__________________________________________________________________________________________________________
OK, the secret is out. It really doesn't take much to enter­tain us.
We haven't bought each other "big" Christmas gifts for a long time. There was a time in our lives when we would spend hun­dreds of dol­lars on each other on gifts.
One Christmas dur­ing my cor­po­rate years, Dale gave me $500 worth of gift cards. I did have a really good time with them shop­ping the sales after Christmas, but we just don't need "stuff" anymore.
Since mov­ing to Our Little House, dur­ing the hol­i­days we could afford it, we decided to spend only mod­er­ately and get some­thing we both could enjoy.
We do love watch­ing tele­vi­sion series and movies on DVD, so last year, it was a small (because who needs a big screen in a lit­tle house?) flat screen.
The only two things I really wanted is a 4-wheeler to go up and get the mail and a wild life cam.
Since we didn't win the lot­tery, the wildlife cam won.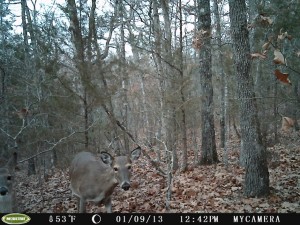 We bought a bag of deer corn last week­end and off we trot­ted through the woods, far enough away from the house so the wildlife wouldn't be spooked by the dogs – or so we thought.
We allowed Chloe, our res­cue lab/pit mix to fol­low us, which was a mistake.
For the next two days, all we got pho­tos of was Chloe com­ing back to the spot to nib­ble some corn (and prob­a­bly crack her teeth).
On day 3, Dale hur­ried home from work and brought the cam­era in before dark­ness fell.
We were both so giddy to see if we had any­thing, we were prac­ti­cally shaking.
When the note popped up on the screen show­ing "40 pho­tos down­load­ing," I could hardly wait to start the slideshow.
We scored! A small herd of does with a baby came along once dur­ing the night and again the next morn­ing, and then there was, of course, Chloe, again.
We were going to wait to reset the cam­era over the week­end, but we wanted to keep the deer and any­thing else com­ing back.
We trot­ted out to the woods, even know­ing it would be dark before we could get back.
We did set it a lit­tle lower on a tree trunk this time and also put the corn fur­ther away from the cam­era to get a full view of the ani­mals and herds.
Our dream is to "cap­ture" the elu­sive moun­tain lion and a black bear, though we'll take turkey and any­thing that wan­ders in front of the lens.
Like I said, it doesn't take much to enter­tain us.
Have you ever had a wildlife cam­era? What's the coolest pic­ture you've gotten?