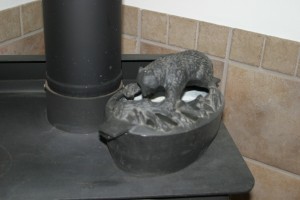 There is noth­ing like the heat from a wood burn­ing stove to com­pletely warm the bones on a cold win­ter day.
There is also noth­ing like the dry­ness that per­me­ates the air inside the home when heat­ing with a wood stove.
When we built Our Little House, we were mainly using it dur­ing the sum­mer as a lake house, but we often came down dur­ing Thanksgiving and Christmas vacations.
Knowing we would not be putting in cen­tral air, at least at first, we decided to choose a really good wood stove, just in case.
The mild Arkansas win­ters allowed us to keep our wood stove new for the first four years we did not live here full time.
When we moved here, how­ever, we began using it when it gets very cold, typ­i­cally in January and February. For the times it isn't below 30 degrees out­side, we con­tinue to use a safe elec­tric space heater, the type that looks like a radi­a­tor, which has some type of oil that heats inside.
This year, how­ever, our red Dachshund, Molly, started expe­ri­enc­ing pretty severe nose bleeds from the dry heat of the wood stove. She is on heart med­ica­tions, which are meant to drain flu­ids from her body, so the dry heat was just too much.
Before my mother passed, she bought us the steamer (pic­tured above) to keep on the wood stove, which is meant to keep the air from dry­ing all of us out.
We've used it before, but when Molly began hav­ing these severe nose bleeds, it became a necessity.
So far, so good. We've been using our bear humid­i­fier for about three weeks and Molly has had only one nose bleed since, when we had to increase her med­ica­tion one day.
Do you heat with a fire­place or wood stove? What do you use to keep your air moist?