Our Steamy Nights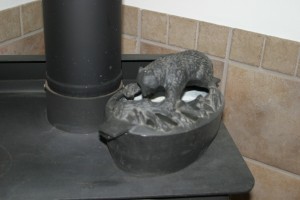 There is nothing like the heat from a wood burning stove to completely warm the bones on a cold winter day.
There is also nothing like the dryness that permeates the air inside the home when heating with a wood stove.
When we built Our Little House, we were mainly using it during the summer as a lake house, but we often came down during Thanksgiving and Christmas vacations.
Knowing we would not be putting in central air, at least at first, we decided to choose a really good wood stove, just in case.
The mild Arkansas winters allowed us to keep our wood stove new for the first four years we did not live here full time.
When we moved here, however, we began using it when it gets very cold, typically in January and February. For the times it isn't below 30 degrees outside, we continue to use a safe electric space heater, the type that looks like a radiator, which has some type of oil that heats inside.
This year, however, our red Dachshund, Molly, started experiencing pretty severe nose bleeds from the dry heat of the wood stove. She is on heart medications, which are meant to drain fluids from her body, so the dry heat was just too much.
Before my mother passed, she bought us the steamer (pictured above) to keep on the wood stove, which is meant to keep the air from drying all of us out.
We've used it before, but when Molly began having these severe nose bleeds, it became a necessity.
So far, so good. We've been using our bear humidifier for about three weeks and Molly has had only one nose bleed since, when we had to increase her medication one day.
Do you heat with a fireplace or wood stove? What do you use to keep your air moist?