Organizing the Kitchen and a Book Giveaway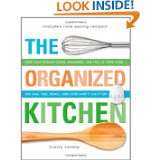 Organization in a small house isn't a resolution, but more of a way of life. I try to spend at least 10-15 minutes each day organizing some part of the house, but main areas such as the kitchen need a good reorganizing at least a couple of times a year.
Last year, when Brette Sember's book, "The Organized Kitchen" came out, I got it and thought it was a great resource for anyone needing a little organizational help.
If your New Year resolution is to organize your home, particularly your kitchen, you'll want this book, and Brette has generously offered to give one copy away to one of our lucky Living Large community.
Entering is simple. Just make a comment on this post before noon US CDT on Monday, January 14. Please make sure you check in on the post on Tuesday, January 15 to see if you won. If you want automatic notice of posts, go to the bottom right and click on "Entries RSS" and sign up for RSS Feed. If I announce that I drew your name, you must email me at fivecoat@ozarkmountains.com by noon CDT Wednesday, January 16 with your snail mail address to claim your book. Sorry, international readers, this one is open to U.S. residents only.
Tell us why you would like to have this book!