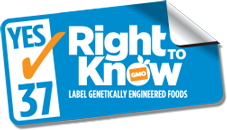 I was very dis­ap­pointed that Proposition 37 – the bill that would have required all Genetically Modified Foods (GMOs) to be labeled– did not pass in California last week.
Why, you might ask, since we live in Arkansas.
It's sim­ple. Food com­pa­nies likely wouldn't have devel­oped spe­cial pack­ag­ing just for California and would have labeled all of their brands to the state's standards.
Therefore, if we wanted to know if we were buy­ing GMO food, we all lost last week.
This story, from the L.A. Times, pretty much lays it all out. Companies such as Monsanto, Dow and even Pepsico spent $46 mil­lion in a David vs. Goliath ad cam­paign against smaller organic inter­ests for label­ing, which only was able to spend $9 mil­lion in the last two weeks of the campaign.
I could see the Evil Empire of chem­i­cal com­pa­nies were suc­ceed­ing when I posted a Facebook link to the propo­si­tion a cou­ple of weeks before the elec­tion and an oth­er­wise smart per­son who I am con­nected to par­roted the ads by the "no" cam­paign giants by say­ing the bill was poorly writ­ten and would place an undue bur­den on small grow­ers and food companies.
Look, as I've writ­ten before, I do not know if GMOs are safe or not. What I do know is that not enough research has been done on them and that most of Europe, which has banned GMO foods, doesn't think so either.
Most impor­tantly, I want to know what I am eating.
I also know what the sci­en­tists are say­ing. Why did Dow have a dog in this fight? Because GMO foods are grown as such because they are resis­tant to cer­tain kinds of insects. Although we also know that these insects are becom­ing resis­tant to the GMOs.
This story on the Huffington Post site describes how that resis­tance is actu­ally lead­ing to more pes­ti­cide being used, instead of less. That's what dog Dow has in this fight.
When I was a young 20-something pro­fes­sional, I actu­ally sat on a fed­eral jury in a trial in which Dow was suing a smaller pes­ti­cide com­pany. Dow was a giant in the indus­try com­pared to the other com­pany, and the giant's lawyer so well trained he could rat­tle off quotes from thick stacks of depo­si­tions with­out even hav­ing to look them up.
They are able to put a lot of money into some­thing when they want to win; they trot out their best lawyers and put on their best ads.  It didn't take the jury very long to rule in Dow's favor, we were all wowed by the show.
It's too bad the major­ity of California vot­ers were as well.
What do you think of the defeat of Proposition 37?