Decorating a Small House for The Holidays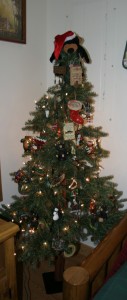 We typically put up our Christmas décor the Saturday following Thanksgiving. We did not make it this year. We spent too much time relaxing for the first three days of the holiday weekend.
When Sunday rolled around and it was 70 degrees that day, we decided it was the perfect time to run the gasoline out of the boat for the season. It was, but it was also more fun than cleaning before putting the decorations up.
As with anything in a little house, there is a trick to decorating for the holidays without it looking overdone or cluttered.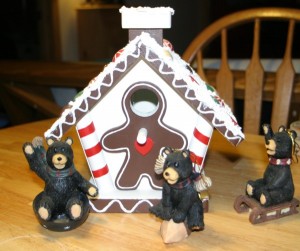 Indoors
When we built Our Little House, we went with a decorating theme. Although I am not a great creative when it comes to decorating, I remember why I got a C back in sophomore Home Economics in decorating.
"Your house doesn't have continuity in decorating," my teacher wrote (or something to that affect). "Your colors will not blend together from room to room and there is no central theme to your house."
While I pretty much didn't follow this advice on my larger house in the city, because every room can be seen from almost any point in Our Little House, I chose a central woodland theme with a continuity of earth tones.
I follow this same principle when I decorate for Christmas. We have a small woodland-looking tree with woodland themed ornaments.
My mom, who loved Christmas and loved decorating, also gave me as gifts a few black bears with Santa hats that I sit around.
We have a wood burning stove, so no hearth from which to hang stockings. They are hung on the knobs leading into the pantry/laundry closet from the kitchen. Red place mats, a gingerbread house my mom made and holiday towels complete the decor in the kitchen.
Thanks to my throwing a little bit of red splash for color into my regular decorating, having red and more green during the holidays doesn't clash.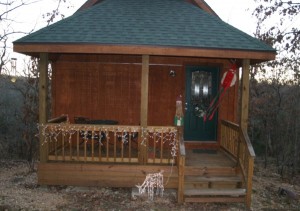 Outdoors
For many people with small or tiny homes, our outdoor living space is as important as our indoor space.
This is very true for us. Between Our Little House and The Belle Writer's Studio, we have 2 covered porches and 1 deck, all of which is decorated in lights for the holidays.
Of course, we have the obligatory lighted deer (this was a must for our woodland landscape when we moved).
I've used white icicle lights for the railings the past few years, but it was time to buy new ones this year. There were too many going out and breaking on the old strands.
"I think blue and white would be pretty," Dale said when he spotted them.
Since we have plain white lights on the tree inside, I agreed. A more colorful glow shining through the woods from the porches will look nice.
I'm anxious to get to it. Maybe next weekend.
Do you have any holiday decorating tips for people with small spaces?