Bella's Tale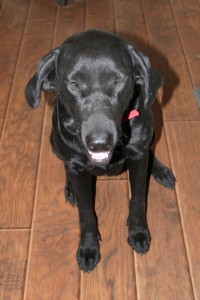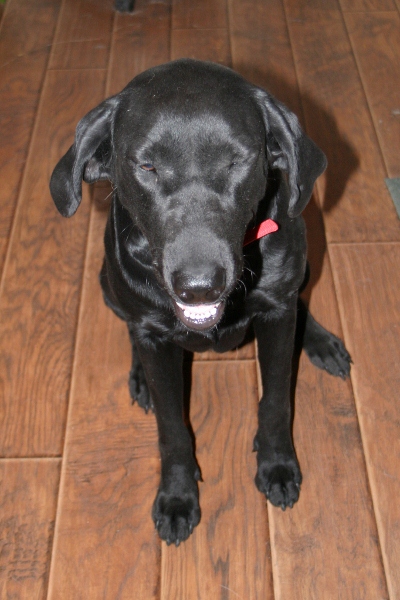 I know when Dale calls me on his way home from work and says, "I have something for you," that the local grocery store's bakery is selling carrot cake by the piece, or he's found another dog.
When he called with that message on Tuesday evening, I knew he hadn't been to the store.
Last week, on a trip into town for an appointment during my medical drama, I was on my way home when I spotted a big black dog lying in the grass.
Knowing this is a place near a boat ramp where people inexplicably like to dump dogs; I stopped and called the dog over.
Wary, but friendly, she came over to me, it was a hot day and she was soaking wet from a dip in the lake.
I could tell that she was most likely left there; she was skinny, but not too bad. I tried to coax her into the Baby Blazer. I almost had her once, but scared her when I tried to shut the back tailgate.
Even with bones starting to show, she was too big and heavy for me to lift and with groceries – including frozen goods in the car – I finally had to leave her.
I called Dale when I got home and told him to pick her up if he saw her on his way home.
He sighed. "She will probably be alright," he said.
We had promised ourselves and each other that we were at our limit; that the 6-pack we currently have is more than enough for us, financially and emotionally.
For a year, we've resisted any sad stories about homeless pets. We planned cutting back as they naturally left us in old age, in part planning for the day when our pet nanny, a young woman we've entrusted with our fur kids when I've had to travel for work or we travel to go back home, tells us that she's moving on in her life and can no longer watch them.
Dale didn't see her when he came home that day, and I hoped that some kind-hearted person had found her and taken her home.
I had all but forgotten about the encounter when he called on Tuesday. The truth of the matter is that neither of us can leave a starving dog on the side of the road.
It was another hot day and she didn't have the stick burs she had when I saw her, but she was at least 10 lbs. lighter and full of ticks. Her ribs and hip bones are protruding; we can count the vertebrae in her back.
She indeed looks like the photos of animals we see confiscated in neglect and abuse cases.
We theorized that she finally accepted the fact that whoever left her there was not coming back. She was ready to get into the truck. Dale put her front paws on the floorboard and lifted her hind legs in, when he got her home, she was so weak that she had trouble getting up and staying on her feet on our slick laminate flooring.
She is better now. She went on a short walk with us yesterday. We fed her a little on Tuesday night and more on Wednesday.
I started calling her "Bella." I posted her on Facebook and asked everyone I could think of to help us find her a home.
I called the one and only rescue in this area that will take strays. They have not called me back. The last time I contacted the elderly owner of this rescue, he told me he had 100 dogs and said if I would keep the dog (Dexter), he would pay for shots and neutering.
Strays are a real problem in the country; we have no animal control, no large humane societies with deep endowments. If anything, we have rural rescues such as the one I described above, with limited resources and volunteers, outside runs and too many homeless pets.
People here I would consider good people admit they shoot strays to keep them from either dying a horrible death of starvation, becoming diseased or wild and dangerous.
Maybe to our own ultimate ruin, we cannot do it.
For the time being, our 6-pack is a 7-pack and Our Little House is even fuller. Bella – lab mix maybe with Great Dane – has taken a spot on the rug in front of the stove in the kitchen.
"I wish we could keep her," Dale said as he said goodbye to all of the dogs before he left this morning, "She's a cool dog."
"She is and we probably will," I said and Bella wagged her tail on cue.
Do you have a pet overpopulation problem in your area? Do you have local humane societies?