Study Doesn't Convince me of the Benefits of Not Eating Organic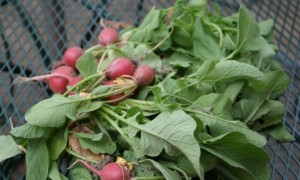 The results of a new study by Stanford researchers this week say that organic food doesn't have more nutritional value than conventionally raised or grown food.
The response I've been hearing from a lot of my friends and our Living Large Facebook community boils down to "duh."
We've been purchasing organic milk and free range organic eggs for over 20 years. Produce when we can get it and meat for well over a decade.
Not because we felt that the nutritional value was higher, but because we were trying to keep as many chemicals off of our tables and from our bodies as possible and because we feel it is a better choice overall for our planet.
Studies have shown that the fresher the produce, organic or not, the more nutrients the produce retains, so we also try to buy freshly picked organic to get more nutritional value and if we cannot get organic, we try to buy freshly picked, but we don't choose organic over conventional for nutritional value.
News tickers on television screens and headlines all over this week seemed to suggest that the price of organics isn't worth it.
As a journalist myself, I still have to wonder if the Stanford study really wasn't funded outside of the university and I also wonder about the timing of the release of the study, when Californians – where Stanford University is located – are to vote on labeling of GMOs in November.
Coincidence?
This article from The New York Times sums up the controversy best, I believe, but I believe it still gives a misleading headline "Stanford Scientists Cast Doubt on Advantages of Organic Meat and Produce," by making the cursory news reader believe that organic food may not be worth the cost.
In reality, when you read the entire article, it seems the only thing the study revealed is that an organic carrot doesn't have any more nutrients than a conventionally grown carrot.
The study, according to The NYT article did in fact find:
Fewer traces of pesticides on organic grown food, which led to less traces of pesticides in urine of children who ate organic foods.
Organic chicken and pork were less likely to be contaminated by antibiotic-resistant bacteria.
Organic milk contained more omega-3 fatty acids.
Organic produce contains overall higher levels of phosphorus than conventional produce.
Organic produce also contained more compounds known as phenols, believed to help prevent cancer.
Organic meat contains considerably lower levels of antibiotic-resistant bacteria than conventionally raised animals
The study doesn't do anything to change my mind about our organic buy habits, it really only reinforces them. How about you?