Separating the Grains of Rice in the Arsenic Controversy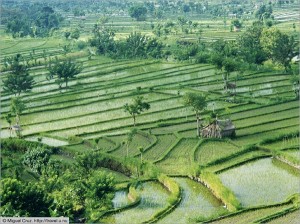 Last week, more bad news about our food supply.
According to a study done by Consumer Reports, arsenic is in our rice.
Health experts have always recommended eating more rice over potatoes and what about those healthy people in Asian countries who eat rice for nearly every meal?
The first few reports we saw on this was confusing.
"Why is arsenic in our rice?" my husband asked. "Is organic rice better?
"I have no idea," I said, and the news reporters either didn't know or weren't reporting the answers.
To make matters even more confusing, some of the reports were hurriedly associating the word "organic" in the report.
I did some research on my own and found that rice has always contained some levels of "organic" arsenic as our soil and water contains the "organic" matter (meaning it is natural to the earth).
According to the FDA, it is this "organic" type of arsenic that is not harmful, and it passes through the body easily.
It is the "inorganic" arsenic that we consumers and parents who feed their babies rice, should be concerned about.
The inorganic kind is what we, as humans, have once again added to the air, water and soil. Used in pesticides banned in the 1980s, these chemicals with inorganic arsenic are still leeching into the soil, water and food we consume.
This article from the Huffington Post says the Consumer Reports study found that rice grown in southern states was found to have more of this inorganic arsenic than that grown in California or Asia.
Which begs the question: Is certified organic rice, meaning that grown without pesticides on land certified without pesticides for decades – safer?
According to articles I've written in the past, it should be. I also saw a story on our local news where the proprietor of an organic health store says she knows where their rice originates and the farmer says he has had his organic rice tested for inorganic arsenic and the levels are very low.
As well, it takes a mountain of proof that a farm is pesticide free for decades before the government will give it an organic certification.
Again, it comes down to knowing where your food originates and knowing your farmer, if possible.
What do you think of the arsenic in rice controversy? Will it make you eat less rice?