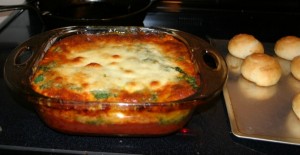 We had some great fall weather last week­end. Cool morn­ings and sunny, warm after­noons. When this time of the year is upon us, my nest­ing instincts kick in and I decided to make some home­made com­fort food.
I can always tell when sum­mer is com­ing, as my mother-in-law will always tell me about her last pan of lasagna for the sea­son. I decided to kick off the begin­ning of fall with some yummy veg­e­tar­ian lasagna.
I don't like the extremes of sum­mer and win­ter, but fall is def­i­nitely my favorite time of the year.
Here are some other things I look for­ward to when fall rolls around:
Putting up the Halloween and fall decorations
The Hillbilly Chili Cook-off, usu­ally a great day to eat some good chili, a fun­nel cake and browse crafts
Fires in the fire pit and woodstove
Dutch oven cooking
The return of the few shows we watch on tele­vi­sion (Yay! Dexter!)
Rotating the closet and "dis­cov­er­ing" my fall/winter clothes again
The col­ors and walk­ing along the road hear­ing the crispy leaves crunch
What do you look for­ward to most in the fall?