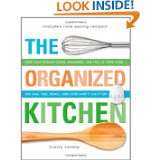 Put on your party hats and toot that party horn, our vir­tual orga­ni­za­tion party is on!
As promised, I'm start­ing orga­niz­ing in the kitchen of Our Little House and there is a cool give­away, so keep reading.
It can seem a lit­tle over­whelm­ing, even in a small kitchen, when look­ing at all of the cab­i­nets and try­ing to decide how to best organize.
For the kitchen, I have four goals:
Clear out all of the food stuffs that is about to expire or has expired.
Make more room so that when I orga­nize the base­ment in The Belle Writer's Studio, I can bring more of the kitchen stuff from there over here.
Make bet­ter use of the stor­age con­tain­ers we pur­chased after a pantry moth infes­ta­tion.
My friend and fel­low writer, Brette Sember, wrote "The Organized Kitchen," so I turned to her book for a lit­tle help.
She says there are two prin­ci­ples to kitchen organization:
First, it's nec­es­sary to employ a pro­gram of ongo­ing main­te­nance so that the kitchen cleanup occurs while mess is still in the min­i­mal – not moun­tain­ous – stage.
Second, it's impor­tant to take an inven­tory of your orga­ni­za­tion and stor­age strate­gies from time to time to ensure they're still meet­ing your cur­rent needs and lifestyle.
Good, I'm already on the right track. The first thing I did was cre­ate a list of cab­i­nets I need to go over:
Food
Dishes
Pots and pans
Cookie sheet cabinet
And the drawers:
Towels, linens
Junk drawer
Spice drawer
(I'm not includ­ing refrig­er­a­tor, as that was already cleaned out and washed thor­oughly the dis­as­ter of the day when the clean­ing lady vis­ited or the freezer, as this has been cleaned twice recently when Dale put soda in there and for­got about it…yes, pop!).
Like many peo­ple, I have lim­ited time, so I'm sched­ul­ing one cab­i­net and one drawer per day between now and next week.
When I go through the cab­i­nets and assess what food is still edi­ble, I'm going to put it on a list and plan the fol­low­ing week's meals around that food. This should not only use up food we need to eat, but will also save us money on gro­ceries, prob­a­bly for a cou­ple of weeks.
I'll report on the progress and (hope­fully) show pho­tos next week of my orga­nized cab­i­nets. This is how I plan on stay­ing accountable.
What needs to be done in your kitchen to orga­nize? Do you have any tips for the rest of us?
Now, for the give­away. Brette Sember has gra­ciously offered to pro­vide one copy of her book, "The Organized Kitchen." All you have to do is enter by com­ment­ing on THIS post between now and 4 p.m. CST on Monday, August 6. I will draw one lucky win­ner and announce that win­ner in the blog post on Tuesday. If you win, you will need to respond to that post imme­di­ately by send­ing your name and snail mail address. Sorry, inter­na­tional read­ers, this one is only open to U.S. res­i­dents.
Good luck!