Virtual Organizing Party in the Kitchen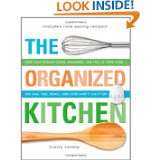 Put on your party hats and toot that party horn, our virtual organization party is on!
As promised, I'm starting organizing in the kitchen of Our Little House and there is a cool giveaway, so keep reading.
It can seem a little overwhelming, even in a small kitchen, when looking at all of the cabinets and trying to decide how to best organize.
For the kitchen, I have four goals:
Clear out all of the food stuffs that is about to expire or has expired.
Make more room so that when I organize the basement in The Belle Writer's Studio, I can bring more of the kitchen stuff from there over here.
Make better use of the storage containers we purchased after a pantry moth infestation.
My friend and fellow writer, Brette Sember, wrote "The Organized Kitchen," so I turned to her book for a little help.
She says there are two principles to kitchen organization:
First, it's necessary to employ a program of ongoing maintenance so that the kitchen cleanup occurs while mess is still in the minimal – not mountainous – stage.
Second, it's important to take an inventory of your organization and storage strategies from time to time to ensure they're still meeting your current needs and lifestyle.
Good, I'm already on the right track. The first thing I did was create a list of cabinets I need to go over:
Food
Dishes
Pots and pans
Cookie sheet cabinet
And the drawers:
Towels, linens
Junk drawer
Spice drawer
(I'm not including refrigerator, as that was already cleaned out and washed thoroughly the disaster of the day when the cleaning lady visited or the freezer, as this has been cleaned twice recently when Dale put soda in there and forgot about it…yes, pop!).
Like many people, I have limited time, so I'm scheduling one cabinet and one drawer per day between now and next week.
When I go through the cabinets and assess what food is still edible, I'm going to put it on a list and plan the following week's meals around that food. This should not only use up food we need to eat, but will also save us money on groceries, probably for a couple of weeks.
I'll report on the progress and (hopefully) show photos next week of my organized cabinets. This is how I plan on staying accountable.
What needs to be done in your kitchen to organize? Do you have any tips for the rest of us?
Now, for the giveaway. Brette Sember has graciously offered to provide one copy of her book, "The Organized Kitchen." All you have to do is enter by commenting on THIS post between now and 4 p.m. CST on Monday, August 6. I will draw one lucky winner and announce that winner in the blog post on Tuesday. If you win, you will need to respond to that post immediately by sending your name and snail mail address. Sorry, international readers, this one is only open to U.S. residents.
Good luck!