The Itsy Bitsy Spider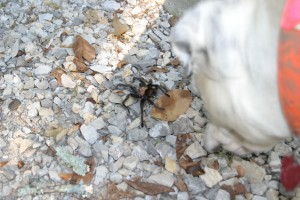 Alexandra! You have won the compostable toothbrush from World Centric! Congratulations! Please get in touch with me at fivecoat@ozarkmountains.com with your snail mail address!
I have another nature post this Tuesday, one you will either love or hate.
Dale came home from work the other day and said, "I got to see a tarantula this morning on the way to work."
Before we built Our Little House, we had never seen a tarantula outside of a pet store and really didn't know they were here in Arkansas.
When we were building, we drove up to the construction project and saw something on the side of the foundation. "Is that mud?" I asked and as we got closer, I could see it was a huge, hairy spider.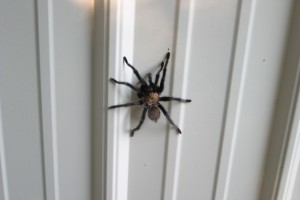 I've never been afraid of the creatures, so it didn't freak me out then and since we've seen so many of different sizes and colors.
Call me crazy, but I truly believe them to be one of nature's most beautiful critters.
So, I was a little envious when Dale said he got to see one in the road on the way to work the other day.
The weather has been truly strange here and the tarantulas have been hiding out.
Do you have tarantulas where you live? What do you think of spiders in general?