Partying Down in the Bathroom at our Little House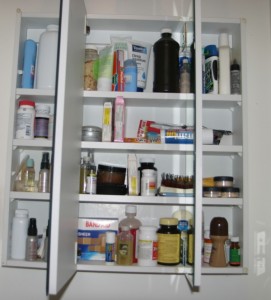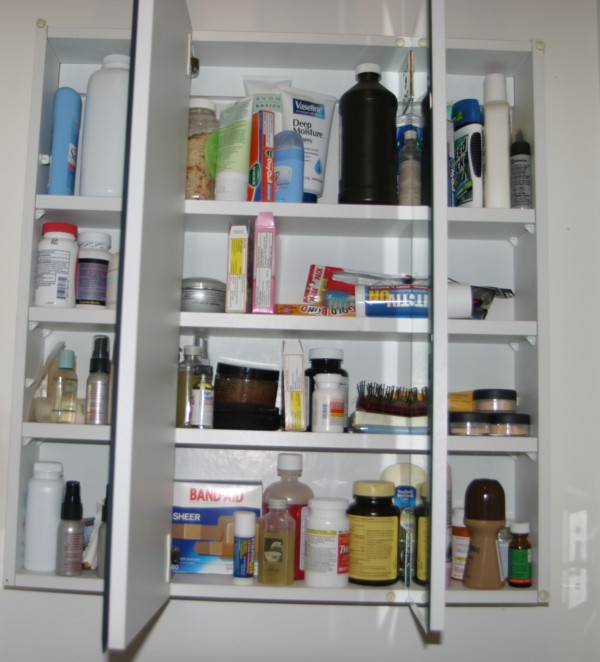 IT'S PARTY TIME AGAIN!
Ok, how many of you are still with us in this quest to get organized?
I admit, I'm behind, but that's ok. I was sick last weekend and I'm prepping for a writer's conference this coming week.
At least I have the roadmap to finish when I get back.
We're moving on to the bathroom this week anyway. Stay with me. I'm announcing another giveaway at the end of this post.
How many of you have stuff stored under that sink vanity and have no idea why it's there?
How many of you have cleaned out your medicine cabinet recently? I haven't cleaned ours since the last time I posted about it (Has that really been over two years ago!?)
When cleaning out the bathroom, you have to be a little extra careful with the stuff you're throwing into the trash and down the drain.
I was horrified watching the television series "Political Animals" this past weekend to see the characters flushing cocaine down the toilet.
Of course, they really weren't doing it, only acting, but still. It's never ok to flush medications – legal or illegal – down the drain. That stuff ends up in our waterways and can harm fish and other wildlife, as well as coming back to harm us as well.
Here's how to dispose of medications:
Crush the pills and mix them in with some­thing such as cof­fee grounds, which will deter any ani­mals from eat­ing the powder.
You can also leave them in a securely closed con­tainer. However, remem­ber that glass will break and plas­tic will crush in the land­fill. Wild ani­mals do for­age through trash.
Some cities and towns now offer free drop offs during the year in which you can take old, expired medications and leave them.
Now, here's for the next giveaway. We have a great eco-friendly toothbrush to give away to go along with our bathroom themed party this week.
The fully biodegradable toothbrushes by World Centric completely break down when they are thrown away. They come in a reusable travel case. World Centric also offsets carbon emissions by planting trees. The company planted 175,000 trees just in one year.
Just tell us in the comments on this post by 5 p.m. USCST on Sunday August 19 how you're doing with your organizing. If you're behind, that's ok. How will you organize when you get the time and when do you plan to do it?  If I draw your name and you win the toothbrush, you MUST send me your snail mail address ASAP. Come back Tuesday to see if you've won!