Doing it on the Deck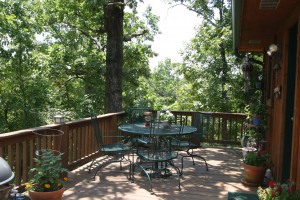 I'm still behind in my quest to organize and clear the house of clutter, but we're pushing on for this last Thursday in August.
Appropriate that we saved the outdoor living spaces for the beginning of the Labor Day weekend, when some of us may be entertaining with end of summer bar-b-ques.
I don't think we'll be doing much of that here in Arkansas, as we're supposed to see the remnants of the hurricane by tomorrow, which they say will bring us several inches of much needed rain through Saturday.
Still, when the weather permits, maybe Sunday or Monday, I will start by cleaning up the tomato  and pepper planters from the Party Deck.
My vegetables were in their final days when I left for a conference last week and without water, it pretty well did them in.
I typically will remove the remainder of the plant and go ahead and turn the soil, which will expose any larvae or bugs to the coming cooler winter. We then place the planters under the deck until the very anticipated spring planting season.
Dale also needs to do a power wash on the deck and possibly restain. He has been trying to stain the house all summer, but it got too hot too early to do it in the spring and remained so throughout most of the summer.
Our metal lawn furniture on both the Party Deck and covered porch on The Belle Writer's Studio also needs a new coat of green spray paint.
The covered front porch on Our Little House is good, as we don't typically give it a good cleaning until after the pollen covers it in the spring.
What outdoor living spaces do you have and what do you do to clean them or prepare them for the upcoming winter?