Reflecting on Marital Bliss at Our Little House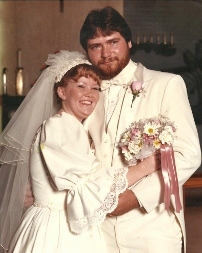 Today is our wedding anniversary here at Our Little House.
For 26 years, we've lived our lives as a married couple. Since we began dating when I was 15 and he was 18, we can hardly remember a time when we weren't a part of each other's lives.
Many people have asked me how we can stand living in such a small house with so much togetherness.
We'll both be the first ones to admit that sometimes it hasn't been easy. I've written before that when we lived in the city, we had totally separate home lives. Dale stayed in the family room with his television and I had a television in the bedroom or I read in the formal living room.
I do have The Belle Writer's Studio, which is supposed to be my refuge, but it's also where I work, so if I come over to the studio, I find myself wanting to work instead of reading or relaxing (no television there).
We've developed a few tricks to ignore one another's television time if we don't like the show that's picked. I have my iPod I can put on while I read and when Dale reads, he is totally immersed and can ignore my programs.
More reading is just one of the side benefits of spending so much time together. Here are some others:
Spending more time together: Unless it is really nice outside and we have something else to do, we do spend a lot more of our non- working time together in the living room at Our Little House. This, on the whole, is a good thing. I think many couples and families have such big homes that allow them to separate, as
we did in the city.
Compromise: We learned a long time ago that the secret to a healthy marriage is compromise, but until we moved to Our Little House, we never had to share a remote! Doing that one thing reminded us of this basic tenant to our marriage.
Sharing: Not just the remote, but we've also found that we generally work better together as a team. Having all of the to-dos compartmentalized in 3 rooms puts it right in front of us and reminds us that we have to share the responsibilities to share in the rewards. If he is cooking, I will walk the dogs and do the clean up and visa versa.
More in common: Although I still do not care for those old westerns and he doesn't really care for my true crime or ghost shows, we've solidified more what we have in common (love of antiques and antiquing) and found that we even enjoy some of the other's interests. While I knew he enjoyed westerns, I really had no idea how much he enjoyed them until we moved here. I think he also feels the same about my music. He even knows which satellite stations to put on for music for me when we are reading, cooking or cleaning.
Of course, we each have our outdoor living space, garage and studio if we do get tired of each other and that helps!
If you have a small home, what benefits do you find in living with your spouse and/or children? Or, if you've had to share a small space and don't do it full time, do you think you could?