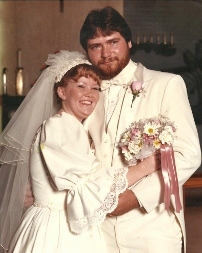 Today is our wed­ding anniver­sary here at Our Little House.
For 26 years, we've lived our lives as a mar­ried cou­ple. Since we began dat­ing when I was 15 and he was 18, we can hardly remem­ber a time when we weren't a part of each other's lives.
Many peo­ple have asked me how we can stand liv­ing in such a small house with so much togetherness.
We'll both be the first ones to admit that some­times it hasn't been easy. I've writ­ten before that when we lived in the city, we had totally sep­a­rate home lives. Dale stayed in the fam­ily room with his tele­vi­sion and I had a tele­vi­sion in the bed­room or I read in the for­mal liv­ing room.
I do have The Belle Writer's Studio, which is sup­posed to be my refuge, but it's also where I work, so if I come over to the stu­dio, I find myself want­ing to work instead of read­ing or relax­ing (no tele­vi­sion there).
We've devel­oped a few tricks to ignore one another's tele­vi­sion time if we don't like the show that's picked. I have my iPod I can put on while I read and when Dale reads, he is totally immersed and can ignore my programs.
More read­ing is just one of the side ben­e­fits of spend­ing so much time together. Here are some others:
Spending more time together: Unless it is really nice out­side and we have some­thing else to do, we do spend a lot more of our non– work­ing time together in the liv­ing room at Our Little House. This, on the whole, is a good thing. I think many cou­ples and fam­i­lies have such big homes that allow them to sep­a­rate, as
we did in the city.
Compromise: We learned a long time ago that the secret to a healthy mar­riage is com­pro­mise, but until we moved to Our Little House, we never had to share a remote! Doing that one thing reminded us of this basic ten­ant to our marriage.
Sharing: Not just the remote, but we've also found that we gen­er­ally work bet­ter together as a team. Having all of the to-dos com­part­men­tal­ized in

3

rooms puts it right in front of us and reminds us that we have to share the respon­si­bil­i­ties to share in the rewards. If he is cook­ing, I will walk the dogs and do the clean up and visa versa.
More in com­mon: Although I still do not care for those old west­erns and he doesn't really care for my true crime or ghost shows, we've solid­i­fied more what we have in com­mon (love of antiques and antiquing) and found that we even enjoy some of the other's inter­ests. While I knew he enjoyed west­erns, I really had no idea how much he enjoyed them until we moved here. I think he also feels the same about my music. He even knows which satel­lite sta­tions to put on for music for me when we are read­ing, cook­ing or cleaning.
Of course, we each have our out­door liv­ing space, garage and stu­dio if we do get tired of each other and that helps!
If you have a small home, what ben­e­fits do you find in liv­ing with your spouse and/or chil­dren? Or, if you've had to share a small space and don't do it full time, do you think you could?