What Guests can Teach us at Our Little House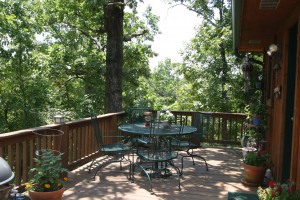 We had a great weekend this past weekend as my friend, and Living Large community member, Kathleen Winn, paid us a visit.
Entertaining in a tiny/small home is always a challenge – especially when there are six dogs underfoot – but I think Kathy had as good a time as we did.
She good naturedly allowed the dogs their "wild time" as they always get very excited to see people other than me and Dale (although I gave her free reign to tell them, "enough") and said Our Little House didn't feel as small as 480-square feet sounded and didn't feel cramped, but rather, "cozy."
As well, we didn't spend a lot of time at Our Little House, as I wanted to show her around the area too. We took long walks on our road, visited a couple of my favorite retro/antique stores, ate a nice Asian lunch (I had sushi, Kathleen had Chinese at the same restaurant), spent some time on our beautiful lake, ate a nice dinner of bacon wrapped shrimp and even did some target shooting.
When we were home, we made use of the Party Deck. It's always good to have outdoor living spaces in a small home.
It's also great that we have The Belle Writer's Studio, which is equipped with a fold down futon and its own bathroom, which gives us and guests plenty of privacy.
We don't entertain overnight guests a whole lot, maybe a couple of times a year. I like to give our guests a B&B feel when they're here, which means setting them up with refreshments in the studio, complete with coffee for the next morning and cold drinks in the mini-fridge.
Unfortunately, I think the biggest glitch to the weekend was that we forgot to turn on the hot water tank to the studio before her arrival. We use it so occasionally that we typically do not pay to keep it on, which also saves energy.
She described her shower on Sunday morning as "tepid."  Oops.
I love having guests come and stay with us at Our Little House. Last week, I wrote that our first five years here had been full of mixed emotions literally rooted in feeling homesick for our hometown.
Showing Kathleen around Our Little House, the beauty of our area and what our new home has to offer made us appreciate even more our move here. This is a side benefit of seeing good friends again. Acting as a tour guide, it allows one to see their home in a new light too.
I also immediately made a master "to do" list of everything that needs to get done before someone else comes to visit. Maybe they'll even get a hot shower.
Do you have a small space? How do you accommodate guests or what is the biggest benefit, aside from seeing friends and loved ones that you've found when they come to visit?