Summer Reading List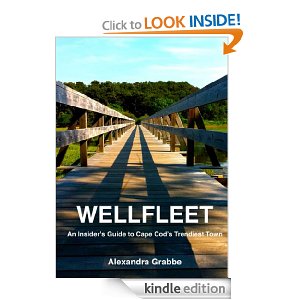 The dog days of summer are here. It was 104 degrees here on Monday and today, they say it will reach above 105.
In these kinds of temperatures, it's even too hot to go out on the boat, so what is a writer and book lover to do?
Well, first thing is write. I'm under contract to write a true crime round up of some of the most shocking murders in the history of Kansas.
Strangely enough, there are a lot of them. The book is tentatively titled, "Blood on the Prairie: The Most Shocking Murders in Kansas History," and it is due to be released winter 2013.
All work and no play is no fun though, and reading helps me keep my skills as a writer sharp.
I downloaded some new books yesterday to my Kindle Fire, the new e-reader I decided upon after long consideration.
Here's what's on my Kindle for this summer:
"Wellfleet: An Insider's Guide to Cape Cod's Trendiest Town." I think there is just something magical and romantic about Cape Cod. Written by Living Large community reader Alexandra Grabbe, who has also guest posted on Living Large about running a green B&B in Wellfleet. I can't wait to get to this one. I love Alexandra's blog, Chez Sven, and looking over this e-book briefly, I want to get into the stories of Wellfleet and take in more of her lovely photography.
 "Prospect Place," by Emile Richards. This is a book club pick and I'm not quite sure what it's about yet. A fellow book club member who usually agrees with my taste in books told me that it is a fun summer read. We'll see.
"Unimaginable Violence," by Chuck Hustmyre (originally titled "An Act of Kindness in print edition). This is part of my research of reading other true crime authors before I get into the real writing of my book. A horrible crime in Louisiana, I originally saw this on an episode of "Fatal Encounters."
"Gone Girl: A Novel," by Gillian Flynn. New book about a woman who goes missing and her husband who falls under the cloud of suspicion. It's getting good reviews, and I chose it as my pick for book club in August.
"77 Shadow Street," by Dean Koontz. I had this on my old Kindle and transferred it over. I vow to finish it this summer!
What's on your e-reader or book list for summer reading?