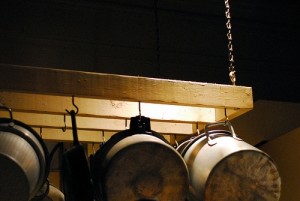 Today, Jakob Barry guest posts about how ceil­ing racks can help save space in a small kitchen:
When the house I grew up in was going to be sold, I was one of the lucky ones who got to clean it out. Among the things that were given to me were a bunch of good qual­ity pots and pans, the kind made to last a life­time. In a way they already had lasted a good forty years, so I'll call it two lifetimes!
After pack­ing and ship­ping my new belong­ings, the boxes arrived and sat around in my liv­ing room for a while till I could fig­ure out what to do with them. It wasn't that there were so many, but my kitchen in the small home I was liv­ing in couldn't han­dle the overload.
I prob­a­bly could have stuffed a few here and there but I gen­er­ally like to have the abode in rea­son­able shape, which means as lit­tle clut­ter and extra tchotchkes lying around as possible.
I searched for all kinds of solu­tions until a friend sug­gested I was over­look­ing the obvi­ous to ease my predica­ment: a kitchen ceil­ing rack.
I hadn't thought about using one, but when he described his suc­cess in straight­en­ing out kitchen­ware with one of these hang­ing appa­ra­tuses I decided to give it a try.
I learned how kitchen ceil­ing racks come in all dif­fer­ent shapes and sizes which is great for any home, espe­cially small ones that can have odd inte­rior designs.
Furthermore, there's some­thing about ceil­ing racks that always pro­vide addi­tional char­ac­ter to a set­ting. Most pro­fes­sional kitchens use ceil­ing racks and when one is fit­ted into a home, the res­i­dent comes across a lit­tle more chef-like. Their dis­po­si­tion can also add to the décor.
Nevertheless, the most impor­tant thing to con­sider in a ceil­ing rack for the small home (or any home for that mat­ter) is safety.
No, they don't bite and aren't prime tar­gets for thieves, but racks must be secure to the ceil­ing as the amount of weight they could hold, even in a small home, can be a haz­ard when falling.
That's why if you aren't well versed in DIYing, they should be installed by a handy­man who under­stands what's behind the walls and ceil­ings of a home. This includes know­ing where joists or studs are for con­nect­ing the bolts and chains where the rack hangs. Connecting them to joists will make them sturdy enough to carry their burden.
Two places that aren't suited for plac­ing your rack:
Over an oven, as it can be dangerous
Near a win­dow, as block­ing one of the few
views to the out­side world prob­a­bly won't enhance the aesthetics.
If you choose to go with a ceil­ing rack in your small home, it can be a great acces­sory for the kitchen that won't get in the way. It will alle­vi­ate stress from other areas of the kitchen and best of all you'll have easy access to some of your favorite pots and pans.
Jakob Barry is a home improve­ment jour­nal­ist for Networx​.com. He writes about house remod­el­ing for pros across the U.S.
Do you use ceil­ing racks in your kitchen? What expe­ri­ences have you had with them? How do you keep dust and pet hair out of your pots and pans?