Muffin Tin Cooking Makes Meals Fun
Today, I'm pleased to have Brette Sember, author of the newly released The Muffin Tin Cookbook, as well as The Parchment Paper Cookbook and The Organized Kitchen.  All of Brette's books are fantastic and make great additions to small house kitchens, but today, she's going to tell us what makes muffin tins great and why they're for more than just muffins. She also gives away a couple of recipes. Read to the end, you have a chance to win one of these books!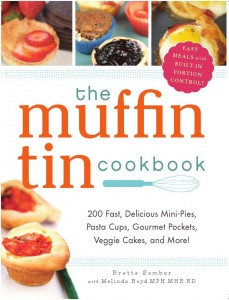 Your muffin tins can do much more than just cupcakes and muffins! This versatile pan can be used to make entrees, appetizers, breakfasts, sides, breads, desserts, and much more. Forget big casserole dishes or baking pans – you can do it all in your muffin tin. If you're living in a small space, you'll find that you can make many dishes with just a six-cup muffin pan which is easy to store and doesn't take up a lot of room in your cupboard.
Muffin Tins Are Green
Muffin tin cooking is incredibly environmentally friendly because now not only do you have the option of cooking right in the pan, but you can use silicone liners. These liners comes in a variety of colors, are non-stick, and best of all, they are reusable. You can even set them on a baking sheet if you don't have a muffin tin handy. Many recipes don't use any liners and some even use edible liners like slices of ham, tortillas, and pie crust as your cup liners, for tasty results.
Garden to Table
You probably never thought of muffin tins as the perfect way to turn the abundance from your garden or CSA into meals, but they are well-suited to veggie dishes because the individual cups help cook the vegetables quickly and evenly.
One at a Time
Muffin tins are a handy way to cook a variety of dishes easily, but are also a great way to manage portion control. You can't fool yourself by saying you'll just have a little more—one "muffin" cup is one portion.  Muffin tin cooking is easy to serve too. You can bring the whole tin to the table, or arrange the cups on a plate. You can also use a pretty cupcake "tree" to serve your dishes. Make an entire meal in muffin tins and your family will be amazed by the variety you serve up.
Kid Friendly
Muffin tin cooking is a great way to get your kids interested in cooking and eating healthy foods. They love choosing the liners, arranging food in the cups, and seeing the transformation when it comes out of the oven. There's something about food that is round, small, and perfectly shaped that appeals to kids. They've been conditioned to believe that anything served in a cupcake liner is fun and delicious, so they'll be willing to try many new foods this way.
Your family and friends will be delighted with your muffin tin dishes!
Cornmeal-Crusted Mustard Chicken with Sweet Potato Coins
Makes 4
1 yam or sweet potato, peeled and
sliced into ¼" coins
1 tablespoon honey
1 tablespoon olive oil
Salt and pepper, to taste
2 boneless skinless chicken breasts
2 egg whites
2 tablespoons Dijon mustard
2 tablespoons water
½ cup cornmeal
½ teaspoon dried rosemary
1. Preheat oven to 350°F.
2. Place 12 silicone or foil-lined muffin
liners in a regular muffin tin.
3. Place 1 yam coin at the bottom
of each.
4. Mix honey and olive oil and
brush each coin with the mixture.
5. Season with salt and pepper.
6. Cut the chicken breasts into 12
pieces of equal size, about the width of a muffin cup.
7. Mix egg white, mustard, and
water in a small bowl.
8. On a small plate, mix cornmeal,
rosemary, and salt and pepper.
9. Dip each piece of chicken in the
egg mixture, then dredge it in the cornmeal mixture.
10. Place one piece of chicken on
top of each yam coin.
11. Spray the chicken with cooking
spray.
12. Bake for 13 minutes, then using
tongs, flip each piece of chicken over, and spray the top with cooking spray.
14. Return to the oven and bake for
another 13 minutes, then broil for 3 minutes, until chicken reaches an internal
temperature of 165 degrees Fahrenheit.
Spinach Cakes
Makes 20 mini or 7 regular
10 ounces frozen chopped spinach,
defrosted and squeezed dry
1 egg
¼ cup plus 2 tablespoons seasoned
bread crumbs
Salt and pepper to taste
2 ounces goat cheese
¼ teaspoon dried oregano
1 tablespoon olive oil
1 tablespoon heavy cream
1 garlic clove, minced
1/3 medium zucchini, chopped
¼ medium onion, chopped
Preheat
oven to 400°F.
Prepare
either mini or regular cups by spraying with cooking spray.
Mix
all ingredients together well.
Divide
among the cups and bake for 12 minutes for mini muffin cups or 18 minutes for
regular until slightly browned.
Caramel Apple Mini Pies
Makes 6
1 unbaked refrigerated pie crust
2 apples, peeled, cored, and thinly
sliced, then cut in half so they are shorter
Pinch of salt
2 teaspoons flour
2 teaspoons sugar
¼ teaspoon cinnamon
2 tablespoons caramel sauce
1 egg
1 teaspoon water
Preheat
oven to 350°F and prepare 6 regular muffin cups.
Unroll
your refrigerated pie crust (you can make your own if you prefer; if you do, be
sure to roll it out to about a 9″ circle). Align a 4″ biscuit cutter
(or a 28-ounce can of tomatoes is exactly the right size) against the edge of
the crust. Cut out 1 circle. Repeat, cutting the next as close as possible to
the previous cut-out. You will get 5 circles. Now take 2 big pieces of dough
and press them together so you can cut out 1 more circle. Place each circle
into a regular muffin tin cup. It will fit exactly, so the edge of the crust is
right at the top edge of the cup. Keep the scraps.
Mix
apples, salt, flour, sugar, cinnamon, and caramel sauce in a bowl.
Divide
filling among muffin cups.
Use
½−1″ scraps of pie crust and dot the tops of the pies with them.
Cover
with foil and bake for 30 minutes. Remove from oven.
Mix
egg with 1 teaspoon water and brush tops of pies.
Return
to oven uncovered for 20 minutes, until apples are tender and crust is golden.
Brette's website is BretteSember.com and she blogs at MarthaAndMe.net and NoPotCooking.com.
Comment on this post on why would you like to win this book by 5 p.m. U.S. CST by Monday, April 9 for a chance to win a copy of The Muffin Tin Cookbook. One winner will be drawn for the book. You MUST leave your email address so I might contact you or respond to the post on Tuesday April 10 to claim your book. If the first person we draw does not return to  claim their book that day, we will draw another winner.
FTC Diclosure: The owner of this blog was provided one review copy of the book by the publisher, but was not in any way compensated to promote this book.