Beer Butt Chicken Triumph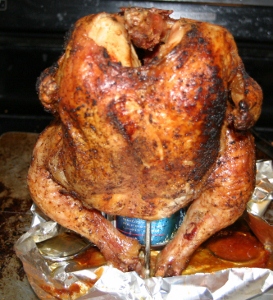 Beer Butt Chicken doesn't really sound too appetizing, this is where you place a chicken over an open can of beer and cook, but I have been yearning to try this for a long time.
I'm a big chicken fan at Our Little House, especially roasted chicken.
You know how sometimes people say a girl finds husbands who have similar traits of their fathers?
Dale has more than one trait similar to my dad's and one is a mutual dislike for chicken. We rarely had the bird at home when I was growing up.
Dad grew up on a farm in Arkansas where his mother literally rang the bird's neck, defeathered and dressed them herself.
Somewhere along the line, Dad found he had an aversion to feathers – maybe grandma didn't get them all plucked – and always said he could "taste" the feathers anytime he ate chicken.
This came from a man who, upon finding a hair in his food or hearing any childish talk of vomit, poop or even animals, would slam his fork down and get up and leave the table.
For a tough guy, he was pretty squeamish when it came to his food and this limited table conversation.
I don't know Dale's reasoning for his opposition to fowl, but he usually doesn't care for chicken unless it is fried.
We knew we would be home all weekend and we like to try different meals, especially on the grill. When I saw an organic chicken at the store, along with the beer butt holders, I talked him into grilling one of the birds for Sunday supper.
I can honestly say that our Beer Butt Chicken was a rousing success. Neither of us had ever tasted a bird so full of flavor.
The outside was nice and crispy and the inside was melt-in-your mouth tender and extremely juicy.
"Now tell me you don't like roasted chicken," I said to him.
My statement was met only with a smile.
There are many recipes for this type of chicken on the Internet, but I made up my own, which I share with you below.
Have you ever had Beer Butt Chicken? How do you cook it?
Our Little House Beer Butt Chicken   
1 whole chicken
½ 12 oz. can of beer (you get to drink half!)
¼ stick of butter (you can substitute healthier olive oil)
McCormick's chicken spice (enough for the rub and about 3 tbsp.
Reserved)
¼ of lge. Onion, diced
2 whole garlic cloves
Grill warmed to about 350 degrees (they can also be done in
the oven)
Beer Butt Stand
Removed any neck and giblets that may be in the chicken, wash and pat it dry. Place on a cookie sheet and use the butter or olive oil and rub into the chicken skin. Rub the chicken spice all over the outside of the chicken. Take your ½ can of beer and cut two additional holes in it with the sharp end of a church key. Place the diced onion, garlic cloves and 3 tbsp. of chicken spice into the can. Place the beer in your stand and place the chicken over the beer on the stand and carefully place it on the grill (placing an aluminum pan underneath to catch the drippings helps clean up). if it is a charcoal grill, place the chicken indirectly over coals. Make sure the grill remains at approximately 350 degrees for 1 ½ – 2 hours or until the internal temperature of the thickest part of the thigh is 180 degrees.