Lions, Lambs, Tornadoes and Fires…Oh, My!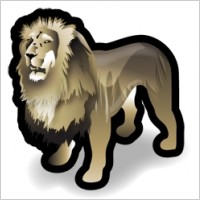 I don't know whether to consider March in like a lion or a lamb.
Today, officially March 1 is beautiful and sunny, with a high expected of around 70 degrees.
If it weren't for Leap Year, yesterday would have been March 1 and if that had happened, definitely in like a Lion.
Most of you probably have heard, – or may have even been affected by – the storms that began Tuesday as a huge snowstorm elsewhere, but as the storm headed south and hit warmer air, it really turned deadly, hitting 9 states with severe storms and tornadoes.
The tornadoes were only an hour to our northeast, in Branson, Mo., which took a direct hit to the downtown area, where Dale and I typically stay and play.
The Convention Center Hilton, where we stay when we want a little getaway, and where we all gathered for Dale's 50th Birthday bash was hit and sustained major damage. The Branson Landing, where we go to shop, and where one of Dale's favorite BBQ places is, also was hit.
Unfortunately, the area was preparing for a huge fishing tournament this weekend, a bread and butter industry for business during the off tourist season. Fortunately, there were only two fatalities in the Ozarks, many less than when the tornado hit Joplin last year.
Tuesday was also the day the Corps of Engineers put on a "controlled burn" in the woods across the cove from Our Little House. While the fires were probably a good 5 miles away, by evening, the thick haze had wrapped our mountain in a thick, choking haze.
When I walked home from The Belle Writer's Studio Tuesday evening, the smoke stung my eyes and was bitter in my throat.
Molly, our little red wiener dog that has a heart condition, didn't do well that night due to the smoke in the air and the humidity from the storm, but we all had trouble sleeping anyway with the wild winds and deafening thunder.
Let's hope the fires and the tornadoes won't make a reappearance anytime soon.
Did the storms affect you in any way?