Lightning and June Bugs in March!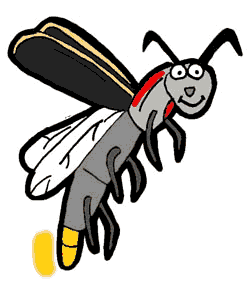 Sitting on the party deck in the pitch black darkness of the country star gazing, I looked over at the tree line that surrounded our house.
"I just saw a lightning bug!" I told Dale.
He didn't respond, but I could tell by his silence that he didn't believe me.
It is, afterall, only March.
A few minutes later, he announces, "I saw a shooting star! Oops, it was a lightning bug. I thought you were crazy there for a few minutes."
I wrote about lightning bugs, also known as fireflies, on the blog at the end of June last year. A post by the National Park Service also has them appearing in the Smoky Mountains around June.
I did read and report last year that they were earlier than in years past, scientists believe is it partly due to global warming.
If mid-June is early, than mid-March is really unheard of!
These little critters also have a very short lifespan, so if they're appearing now, they will all be long gone before May even hits.
Dale went on to lament, "Before you know it, we'll be seeing June bugs in March."
It only took two nights for that prediction to come true. The frogs are also croaking and crickets buzzing. So far, no locusts yet, which normally don't buzz until late summer either.
The famed cherry blossoms in Washington D.C. bloomed early this year, throwing off those who plan tourism around the big festival.
Of course, the internet is all abuzz with what this means for nature, our planet as a whole and all of humanity (remember, some people believe this is earths last year as the Mayan calendar was said to have ended on December 21, 2012).
What do you think? A part of a regular cycle or is there really something funny happening with the earth this year? What animals, insects or plants have you seen come out especially early this season?