It may Look Like a Tornado Hit but it was Only the Utility Company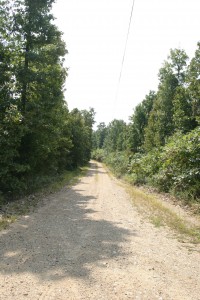 For the most part, the county and utility companies pretty much leave us alone out here.
But like some tornadoes, we were given a warning they were coming this spring through fliers placed in our mailboxes.
It wasn't a force of nature, but large tree trimming machines and brush hogs, sent by the utility companies.
They decided to claim their 15 feet of easement along the utility line routes, which of course, runs the nearly 2 miles from the blacktop along the road and right in front of our property.
My aunt, who was the first to run power lines down our road said she cried the first time they came in 1997 to install the lines.
"I said, 'what have I done to this beautiful landscape," my aunt remembers. "And then someone reminded me if we hadn't done it, someone else would have."
When they returned, I can't imagine that it looked much worse than it did then. Although we had come down here regularly to help my aunt build their home, I do not remember the destruction caused by the power lines the first time.
But, we were different people then and we didn't have a house here.
Two weeks ago, the big tree trimming machine made it. When they were done, we could tell where they had been and they knocked down other trees getting to the ones they were trimming (collateral damage), but we didn't think it was that bad.
Until they told us the brush hogs would follow.
We worried, Dale especially, about the bushes in front of our storage building, which was helping keep the dust from the road off of the building.
I spotted the workman before they came with the brush hogs, talking over a set of blueprints and then talked to him again that morning. He assured me they would leave as "much as possible" and try not to take the whole  15 feet.
When I heard the roar of their machines later, I didn't run out screaming and cursing as I heard some people did. I hoped my 'attracting flies with honey' strategy worked.
While they did leave a little of the bushes in front of the building, they still left our property looking as unsightly as the rest.
We hope we don't see them again for at least another 15 years.
What does the government or utility companies do to irk you?