The Last Place You'd Look Book Giveaway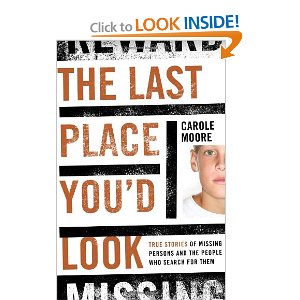 I admit that I'm a true crime junkie.
As a Kansan, my mother became interested when Truman Capote released "In Cold Blood." The horrific murder of a small town farming family in Kansas was so unbelievable to most people at the time that the book drew readers who wanted to understand how such a thing could happen.
The superb writing and commercial success of the new genre ensured it would continue long after Capote's book was off the best seller lists.
It made a life-long fan of my mother of the genre and by extension, myself as well. "Helter Skelter" was the first "big" book I read as a 8 or 9 year old.
But it isn't entertainment so much as it continues to be that need to understand what makes these monsters tick.
That is what makes "The Last Place You'd Look," by Carole Moore, such an excellent read for people who enjoy the true crime genre in books or television magazine shows such as "Dateline," "48 Hours" and "Disappeared."
Unlike most true crime books, Moore, a former police officer, offers insight to the investigative process, which makes this an engrossing read.
As with all missing person cases, I could identify on a personal level with many of the families in Moore's book. Many of you most likely already know my family had its own missing person.
My brother, Steve, a troubled Vietnam veteran, went missing in the fall of 1999 and we did not learn what happened to him until I initiated a search for him in January 2001, 15 months after anyone in our family last saw or spoke with him.
I learned he died in an alley of alcohol poisoning and hypothermia. Although Steve fell through the cracks in the system and our mother, his next of kin, was not notified of his death, we took comfort in the fact that someone did at least identify his body and called the Veteran's Administration so he could be buried in a military cemetery.
Unlike so many of the missing persons described in Moore's book, who have never  been identified.
While there are many, many sad stories in "The Last Place You'd Look," the book does end with some happy stories, giving the reader hope.
I asked Carole Moore a few questions about herself and her book:
1). Tell us a little about yourself:
I'm the product of a military family: My dad was a lifer in the Navy, so I moved a lot. I loved being a bit of a nomad. I've drifted in and out of professional writing/reporting for decades, with a stint as a police officer sandwiched in the middle. I left police work because my spouse was also a cop at the time and we had two small children. We felt like it was too stressful for both of us to be out working cases when the kids needed some stability in their lives. I've been a freelance writer for the past 15 years and work out of my North Carolina home, which is full of kitty cats.
2). How did you get interested in this topic? 
A friend from high school (in Japan) disappeared a number of years back and I found out about it when I attended a school reunion. I started thinking about all of the cases I worked when I was a criminal investigator and it went from there.
3). How in the world did you do all the research on all of the missing persons in the book?
Three ways: I attended a conference in Wisconsin (at Fox Valley Technical College) where some of the nation's top cops, experts and families of the missing get together every year to talk about the issue; I became acquainted with Kelly Jolkowski, mother of missing teen Jason Jolkowski and the owner of ProjectJason.org and she guided me to families; and I researched cases, which was both heartbreaking and difficult, but very important to me and to the book.
 4). What was the most surprising thing you found out, even with your police background?
How many unidentified bodies rest in John Doe graves and morgues across the country and how many of those cases could be resolved if the families of the missing would provide familial DNA for sampling. This can be done free of charge through the University of North Texas Center for Human Identification.
 5). Have any of the missing persons in your book been located since its publishing?
Yes, sadly, several have been found deceased. Anthony Rivera was one of them. He was in the age and gender bracket that so often goes unreported in the press: 19-year-old males.
Thanks, Carole.
Now, Living Large community, you have a chance to win this copy of "The Last Place You'd Look." Just comment on this post on why you would like to read the book, or tell us about someone in your life who has went missing. Post between now and noon U.S. CST on Monday January 16 to qualify for the drawing. You must include your email address in your comment in order to qualify. I will notify you by email if you win and will post the winner's name on the blog on Tuesday, January 17. Sorry, this one is open to U.S. residents only.
FTC Disclosure: The author provided one copy for review, which I will use as a giveaway. I was not compensated in any other way.