The Book is Calling Me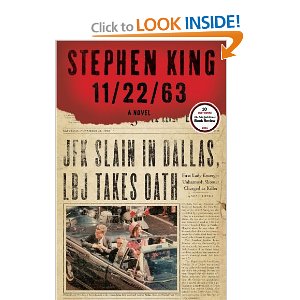 The first time I saw it in the store, Dale asked me if I wanted it and I told him I would get it on my Kindle.
He said, "Are you sure that will fit on your Kindle?"
I laughed and told him it would.
For me, books are as tempting a buy as candy is to a kid and when I saw "11-22-63," the new book by Stephen King, it was like that great big lollipop, just begging to be devoured.
The events of that day in 1963, changed the course for America, not just during that decade, but altered our nation's history from that day forward and made more than one person wonder what the world would have been like if President Kennedy had continued to be a part of it.
It was that generation's Pearl Harbor and our generation's 9-11. A day so horrible for our country that no one who was alive would ever forget where they were or what they were doing when they heard the news and a date even most of those who weren't alive know.
I wasn't born yet, but the events of that day helped begin my life.
My mother was 7 ½ months pregnant with me on 11-22-63 when she was sitting with my future Godmother and another good friend of the family's and heard the terrible news of the assassination.
She was so upset by the events of the day, she began having labor pains. The doctors were able to stop them until December 16, when I was born almost a full month premature.
Fast forward nearly 12 years when I picked up Stephen King's first book, "Carrie." I've been hooked on him since.
Put together a story about time travel altering one of the most shocking events in U.S. history (and one that had a profound effect on the beginning of my life) with one of my favorite authors and it adds up to my number one "must read" for this year.
I went home and mulled over purchasing the book on Kindle. Then I read a post by my former high school English teacher on Facebook. She,
in fact, had trouble downloading the 849-page novel.
That was the excuse I needed to add the hard copy to my already large Stephen King collection.
When I passed by it again in the bookstore last weekend, I grabbed it off of the shelf.
"I can't take it anymore," I told Dale, smiling.
He knew it was only a matter of time.
Now, I'm working frantically to get ahead in my work because I know when I pick it up to read it, I won't be putting it down until 849 pages later.
We may not have needed another book on the shelf in Our Little House, but I have a feeling this is one of the books just too good to have just on the Kindle.
What is the number one book on your reading list this year? Kindle (or other ereader) or hard copy?