Meatloaf Conquered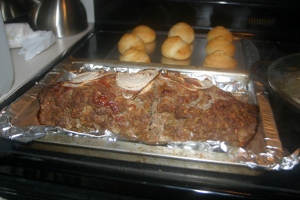 (Congratulations to Annette, who won "The Organized Kitchen" book! Thanks for everyone who entered!)
___________________________________________________________
It began as a roast.
Well, it began as an idea to make a roast in the crockpot for  New Year's Day. I removed a large chunk of meat from the freezer and began  thawing it on the counter.
It wasn't until it was well into thawing that I looked  inside. This was free-range, grass fed organic ground round, not the roast I  thought I had grabbed.
Two pounds of ground round meant for a meatloaf. I scrambled  to find a packet of the Lipton dry onion soup mix I had always used to make my meatloaf.
Well, not always.  My first meatloaf was an attempt from scratch,  so dry and tasteless that Dale and I still shudder at the thought of it now  more than 25 years later.
From that point on, I trusted only the Lipton dry onion soup  mix. It was now a familiar taste.
When I couldn't find a packet of the mix (after all, I had  not planned on making a meatloaf this week), I panicked.
What in the world was I going to do with this huge chunk of ground round!?
I regrouped. "You can  do this," I told myself. "You can  make a meatloaf from scratch."
In addition to not having a lot of cooking experience as a  22-year-old newlywed, I also didn't have access to the Internet then.
I searched online, found a basic ingredient list for  meatloaf: Eggs, crushed crackers and finely chopped onion. I added a couple of fresh ingredients (fresh pressed garlic, fresh salsa) and Dale offered a suggestion  of a green pepper, just because we had an unused one sitting in the fridge.
The results?
Definitely the best meatloaf I had ever cooked. Dale enjoyed  it so much, he wants another one for his birthday dinner, instead of the  traditional chicken fried steak.
It just goes to show that our preconceived notions about  what we can or can't do, based on an old experience, may no longer be valid.
I've been getting us off of processed foods, making more and  more of our meals from scratch, learning about new foods, spices and recipes and I'm so glad I can now ditch the soup mix for the meatloaf.
Have you had any  culinary surprises – good or bad – in your kitchen recently?