Days and Lives Change on a Dime. Is This Ever a Good Thing?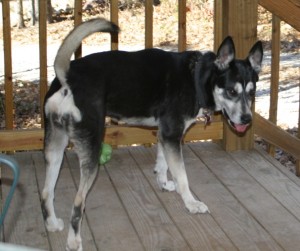 We all know that life can turn on a dime, but when I hear people say that it is usually not due to some stroke of good fortune, but something we perceive as a challenge.
Take yesterday at Our Little House, I had my day all planned and it began on a good note.
I let the dogs out and got to work early. The sun came up and it promised to be a gorgeous, 65+ degree day with a wind, perfect for doing laundry.
And then, well, everything went south or turned on a dime, as they say.
Abbi came home from her romp in the woods, shaking and refusing to eat.
That's never a good sign for her, and then I noticed the blood.
Not a lot of it, but enough to pool on the floor where she was laying. After trying to get a look inside her mouth, I got an aspirin in her and let her rest while I continued working.
By noon, she was no better, so off to the vet we went.
The vet said she had no idea what Abbi could have gotten into, but she tried to chew on something that caused "several" lacerations in her mouth and on her tongue that had to be stitched.
Ca-ching.
My day turned on more than a dime.
This is the same dog who split open her paw pad and required two surgeries and 6 weeks of leash walking just a couple of months ago.
For most people, life typically changes on a dime when we get bad medical news or have an accident, we lose work or at its worst, when someone we love dies.
I'm still waiting for the day when life turns on a dime after I faint when I answer the door to the Publisher's Clearing House guy holding his giant check and roses, or we win Powerball, or my numbers get drawn and I win an ultimate trip someplace we can only dream about from Wheel of Fortune.
Now, those would be life-changing events we would welcome!
What was the last surprise that changed your day or life, was it good or bad?