Comfort Food Includes Lasagna at Our Little House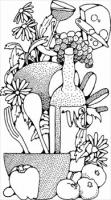 I love spring and summer for the weather and the bounty of fresh vegetables available, but I love winter for the comfort food dishes.
When I was a kid, I always knew when it was vegetable soup night as I could smell it as soon as I stepped on our front stoop after getting off of the school bus.
My mother was a huge Italian food fan, particularly spaghetti and lasagna and one of my favorite recipes is a variation of her lasagna recipe, which I've modified from a big pan to a pan for two.
The recipe gives us four pieces, one each for dinner and one each for our lunches the next day.
Dale enjoys ricotta cheese in his as well, so I've added that, along with fresh pressed garlic (Mom used the bottled one) and instead of adding a "pinch" each of several Italian spices to the sauce as she did, I buy the Italian spice blend.
I also make it meatless, substituting rich large sliced portabella mushrooms in place of ground beef; something I'm sure my dad would have had a fit over.
To get some greens into the meal, I also chop baby spinach in the food processor.
We had it last night with toasted garlic bread and although the recipe is slightly different, it never fails to remind me of "home."
Our Little House Meatless Spinach Lasagna
4 pieces of no boil lasagna noodles (I soak them in warm water to soften them
first)
1 16 oz. can tomato sauce
1 sm. Can of tomato paste
3 fresh cloves of garlic, pressed
1 tbsp. Italian spices
1 onion
2 tbsp. Olive oil divided
2 large portabella mushrooms
4 cups of baby spinach, chopped in food processor
1 sm. cartoon ricotta cheese
1 small package of sharp cheddar
1 small package of Italian cheese blend
Sautee onions and garlic in 1 tbsp. of olive oil, add tomato sauce and paste to thicken. Cook on low for about one hour, stirring ocassionally. In the meantime, slice mushrooms and sauté in the remaining olive oil to soften. When sauce is cooked, preheat oven to 350 degrees. In a 9×9 square baking dish layer 2 noodles, spread ricotta cheese, half of the sauce and add half of the chopped spinach. Add half of the mushrooms and sprinkle with both Italian cheese and cheddar. Repeat process on the second layer, adding the remaining ingredients. Bake in oven at 350 for about ½ hour or until cheese is melted and slightly brown.
Do you have a favorite comfort food recipe? Where did it come from? If it is an old recipe, have you modified it in any way?