A Good Year is one in Which we are Content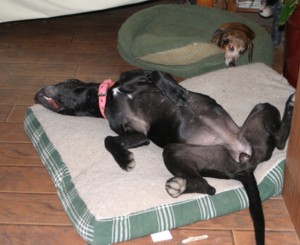 Contentment.
I see it on our dog's faces every day, it doesn't take a whole lot to bring it to them. A warm (or cool) place to lay, a soft bed, plenty of food and lots of love.
Humans aren't so easy, though.
I had been contemplating friend's questions on Facebook: "Had this been a good year and if so, why?" and another friend's lamenting that "nothing good ever happens anymore."
New Year's Eve, while watching the dogs sleep and listening to my husband snore through an afternoon nap, I thought of all of the previous New Year's.
There was the worst. I was 21-years-old, living in my own apartment. I had gotten the supplies to make a nice dinner and a bottle of Asti Spumante. Dale was coming over and we would ring in 1985 in my first home outside of my parent's house.
Mother Nature had something else in mind, though. A snow storm kept him across the river in his apartment. We both rang in the New Year alone and I broke the light fixture in my kitchen popping the cork on that bottle of sparkling wine.
There was the one New Year's where we went to one of those hotel parties with several of our friends. That was probably the most exciting one, although I had to get up at 4 a.m. and go over to my mother's house to help her with our sick dog, Angel. Our Maltese suffered from seizures, which terrified Mom and not thinking she could handle it, she called me to come and get Angel in the middle of the night.
And there was the New Year that I was never so glad to see a year go, 2007. That year brought us the lowest of lows and highest of highs. But even the high points were stressful: The death of my mother and a life altering diabetes diagnosis for Dale. Our first trip out of the country for our daughter's wedding in Munich. Our move to Our Little House, a three-month separation while Dale wrapped up business in the city. A new life here in a small town, 300 miles from friends and family and everything we had ever known all of our lives.
Then there was this year. As I sat watching the dogs sleep, some on their backs with smiles clearly on their faces and listened to my husband snore deeply, I labeled this the year of contentment.
Had 2011 been a good year? Yes, it largely had. Not perfect, but none are.
No year is ever all good or all bad, but to be able to say we are content, I think, is the most important thing in our lives.
How do you view contentment? What have you done to find it or what will you do to change your life to attain it?