Top Ten Reasons to Live in a Small House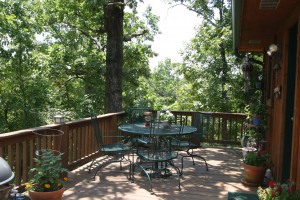 When I'm being interviewed by the media about living in Our Little House, the reporter will always ask me what are the advantages of living in a small home.
I thought I would put together a Top 10 Reasons for Living in a Small Home for our community and you all are so great, I bet you will add to it!
1. Smaller Footprint on the environment: There are two people and an always-changing number of dogs, but we still don't need multiple bedrooms, baths and space.
2. Less Room for Clutter: Our house in the city was packed with stuff. We didn't even know what we were doing with all of that crap! At Our Little House, we have room for the necessities and only the things we love. This, of course, helps us save money on buying more stuff!
3. Lower Utility Bills: Who likes dumping their money into the utility companies. We would like to be completely off the grid, maybe someday. In the meantime, we pay a 12-month average of approximately $50 a month for utilities.
4. Less Time Cleaning, More Time for us: I can clean my house and studio top to bottom in about 2 hours. What more is there to say about that?
5. Less Maintenance: Doing yard work, landscaping, painting and cleaning gutters in our 20s was fun for maybe the first 5 minutes as homeowners. We spend a lot less time doing all of those things here, giving us more leisure time.
6. Cheaper to Build and to Mortgage:  Let's face it. I don't want to be in my 70s and still paying for our home. While we still had to mortgage to build this house and purchase the 10 acres of land (some small house lovers go debt free and that's great!) we will still have a decent retirement without mortgage payments.
7. Savings on Groceries: This is a hidden benefit some people don't realize until they get into their small homes. Limited storage space means we aren't making even monthly trips to the giant warehouse super savings store where we typically purchased stuff we didn't even need anyway. We buy what we need and if we don't use it rapidly, we run out of space, forcing us to use it. We have the added benefit of breaking our 3-4 night eating out habit here, as we're just too far out to take the "easy" dine out option often.
8. More Time Together: Well, usually! In the city, we had a downstairs family room where Dale practically lived. He worked nights, so he usually slept on the floor down there during the day (he said the hard floor actually was better for his back than the mattress we had, plus it was dark and less noisy since I work from home) and on the weekends, he would watch television down there while I would end up gravitating to the upstairs living room to read. We're together all of the time here, forcing us to find things we both enjoy doing together.
9. Better Organized: In our larger house, mail ended up on the stairs or table, unfolded clothes thrown into the "catch all" unused bedroom and junk went into the "junk" drawer in the kitchen. We have no room – or tolerance – for clutter in Our Little House. Every piece of mail brought in has to have a place and purpose and we practice the "1 in, 1 out" policy. If something new comes in, something old has to go.
10. It's Made me More Environmentally Aware: I've always been pretty conscious, being an early recycler and cloth bag user, but moving here really heightened my awareness of our environment. Part of it comes from small house living (there isn't a lot of room to store bags of trash) and part of it comes from being closer to nature. From the amount of trash we produce to the way we cook our meals (we've chucked the Teflon coated pans and microwave), to what we put on the land and into the septic that may end up in our well water, there's hardly a thing we do here that doesn't have some environmental thought affixed.
Ok, Living Large community, can you think of more reasons to live in a small home?