The Stuff Gifts are Made of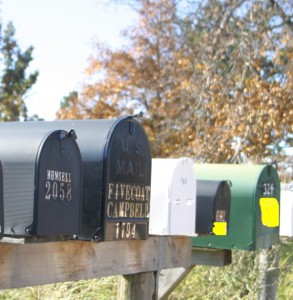 'Tis the season, not just when the amount of catalogs coming to Our Little House increases, but the amount of boxes and cards that show up do as well.
In addition to friends and family wishing us well and sending us gifts for Christmas, I celebrate a birthday in this month also, so we typically get more cards and boxes in December than we see throughout the rest of the entire year.
The issue of dealing with gifts becomes even more of a tricky thing when one lives in such a small home.
The first year or so we lived here, I don't think our friends and family understood just how limited 480-square foot can be when it comes to stuff.
A well-meaning friend I love dearly even sent me a full sized sofa picture of a black bear. While the painting matches our décor, there is absolutely no wall in Our Little House that will accommodate such a large picture.
I was raised to be appreciative of any gift.
"Gifts," my mother would say, "are not mandatory for anyone. It means someone cares enough to think of you."
Therefore, we were never allowed to say we didn't like something or return it. We were to thank our benefactors – period.
It's a mantra I've carried through my life. No gift, no matter whether I loved it or didn't exactly think it was my style, was ever sent back.
It may not have always been practical to keep something I didn't want or need, but I think it also instilled the meaning of appreciation in me.
I truly enjoy the hunt of finding someone I care about that perfect "something" I think they may love too. Really, I enjoy giving more than receiving.
We are truly appreciative of anything we still receive; it's just that in this small of a home, we sometimes absolutely cannot use it.
So, the question becomes, do we go against everything we were taught and ask for a receipt so we can return something we cannot use, or simply donate or re-gift it without saying anything?
This is a question I've struggled with since moving to Our Little House. Most of our friends and family now understand how small of a home we have by reading the blog or staying in touch with me on the Facebook page.
Our closest friends and family have actually been here and see the limited space we have for stuff – and have seen the stuff we still have in our storage building – so they are careful about what they send.
But, inevitably, every year, I get a notice from our rural postman that there is a box so large our big, rural mailbox will not hold it and when we go to pick it up, we wonder where we will put the contents of said box.
Oh, and that sofa picture? I knew it was a hostess gift my dear friend worked really hard to earn for me, there was no way to return it, so it still sits, in its' box in the storage building. I'm still trying to decide what I can do with it.
How do you deal with gifts and things giving to you that you don't have room for or cannot use? I would like to hear your ideas.