The Spirit of the Season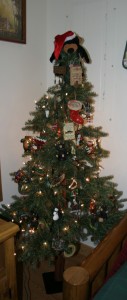 I was having a little trouble getting into the holiday spirit here at Our Little House. It didn't have anything to do with feeling blue; I think there are just those years when the holidays sneak up on a person.
I got out my Christmas sweater and headed out to The Nutcracker with a friend in November. While the performance was awesome and the company good, it didn't put me in the mood. I then put the lights out on our decks and put up the tree.
Not until this week did the spirit of the season really hit. I'm now ready to finish our limited shopping and get those cards addressed and in the mail.
What really put me in the mood was to read a couple of heart-warming stories that are examples of the true reason for the season (and a gift of holiday music sent by a Living Large reader helped too!)
One was a story about a man who had to give up his dog temporarily while he looked for a job and tried to get funds to get a place that would accept his 12-year-old companion.
The person not only volunteered to keep Sweet Pea the dog, but when the story went viral, people sent in money, someone offered the man a job and the hotel where he was staying allowed the man to keep Sweet Pea until he could make permanent housing arrangements.
The other was about a local soldier who signed up from Iraq to adopt a child through the local Christmas Wish program. When the soldier returned home, he delivered the child's toys he had asked for personally.
It was enough to put the spirit right in me.
When I head out to Christmas parties in the next few days, I will be wearing my Christmas sweaters, but more importantly, the spirit will also be alive inside.
How do you get into the spirit of the holiday season?