The Organized Kitchen a Book Giveaway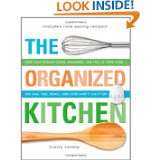 Who doesn't strive to be more organized?
In a small space, it is essential or I would drive myself crazy.  That's why I was so excited when Brette Sember announced she was writing a book on kitchen organization.
"The Organized Kitchen: Keep your Kitchen Clean, Organized, and Full of Good Food – and Save Time, Money (and your Sanity) Every day!" is now available.
You might remember that Brette also wrote "The Parchment Paper Cookbook," which has all kinds of yummy recipes that can be cooked in parchment paper. A great book, especially for those of us who don't have a dishwasher but still would like to have a nice meal after a long day without all of the clean-up.
"The Organized Kitchen" combines all of Brette's kitchen wisdom, organization talents and even some good recipes to one book.
The book covers everything from the must-have utensils for a kitchen to how to store them and display them in the space you have to work with. She also writes about stocking your kitchen and working with storage space in your pantry.
"A familiar slapstick scene played out in kitchens far and wide is opening a cabinet door and being showered with plastic storage tubs and lids," Brette writes.
I had that happen plenty of times in our house in the city, where I had plenty of storage space. The only reason it doesn't happen at Our Little House is because we've replaced all of our plastics with glass, which doesn't contain BPA, is more environmentally friendly and made in the U.S.
Replacing your plastics is just one of the tips Brette gives in "The Organized Kitchen" to keep you from wearing your plastic containers when you open your cabinets. She gives other pointers as well.
I haven't read the entire book yet, I just received my copy this week, but I'm already half way through it and bookmarking tips that will help my kitchen be a more organized and useful space.
If you received book gift cards or Amazon gift cards for the holidays, you should put this one on your list, especially if you're reorganizing those cabinets and pantry in the New Year. This would also make a great gift for that son or daughter who is getting their first apartment or wedding gift. Or, just buy this one as a gift for yourself!
The publisher has generously agreed to send one copy of "The Organized Kitchen" to one Living Large reader.
Please read the rules carefully:
Simply comment on this post between now and noon U.S. CST on Tuesday, January 3. Tell us your plans on reorganizing your kitchen and how the book may help. You MUST comment on this post and you MUST leave an email address where I can reach you should you win. I will randomly draw a winner and contact you directly. If you do not leave an email address where I can reach you, I will draw another winner.  The winner will be announced on the blog next Thursday, January 5.   
Good luck!
(FTC disclosure: I was provided one review copy of "The Organized Kitchen," but have not been paid to promote this product.)