Peace on Earth at Our Little House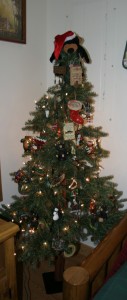 We celebrated with friends last weekend, so we're looking forward to a quiet weekend here at Our Little House. Dale gets a 4-day weekend, so we have some errands planned and he has some firewood to cut and split while I have my office to organize.
We'll enjoy some time with a few movies and eating some of our favorite foods.
I'll enjoy the last few nights of the Christmas lights before we put everything away for another year.
To all of our Living Large community that celebrates, I wish you a very Merry Christmas!
What do you have planned for the holiday weekend?