The Parchment Paper Cookbook Giveway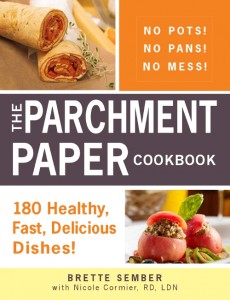 Today, Living Large community, we're beginning a series of Friday book giveaways, just in time for the holidays. We're beginning with one of the best, "The Parchment Paper Cookbook," by Brette Sember.
I did an interview with Brette this week about her work and her book:
1). Tell me a little about yourself.
A couple of years ago I started a blog called MarthaAndMe, where I unofficially apprenticed myself to Martha Stewart for a year. I've always loved to cook, but this intensive, exhausting year in which I cooked Martha's recipes and blogged daily, really changed my life and helped me understand who I am as a cook. Since then, I've been blogging about food regularly. My background is as an attorney and I've written books about lots of topics including parenting, pregnancy, business, divorce, credit, and law. In between books and blogging, I create the indexes you find at the back of books. I'm also a wife and mom of two, as well as a dog owner of two.
2). I've always thought your blog was so interesting and unique. How did you get interested in parchment paper cooking?
The Martha experience was really central in shaping how I think about food and cooking. One big thing that stayed with me from that experience was how complicated and time-consuming many of the recipes were. And part of that was just how much cleanup was involved after every single meal. I wanted to simplify, but I didn't want to sacrifice great flavor and good food. I actually made my first parchment paper packet more than 20 years ago as a newlywed and that recipe has remained one of my favorites. It struck me that I could cook other things that same way and create similarly moist, flavorful, and healthy results. NoPotCooking was born!
3). What is one of your favorite recipes in the book?
I love the recipes that think outside the box the most, so I love the Chicken Uncasserole, which includes all the flavors of one of my favorite casseroles in a parchment paper packet with no sticky casserole dish to deal with. I must admit I am also partial to the S'more Crepes which take seconds to make and are so good you'll have to hide the parchment paper to stop yourself from making them too often.
4). Why do you think this would be good for people with small homes?
This book is great for anyone who wants to do more with less – less kitchen space, less pots, less clean up. I love the simplicity of this cooking style and how once you make dinner you don't have to stand over the sink washing pots and pans. You don't need a gourmet kitchen or a lot of implements and pots to make these dishes. You don't even need an oven – a toaster oven works well.
5). Is parchment paper cooking environmentally friendly?
Parchment is recyclable and compostable. Cooking this way also helps reduce your energy use (you can cook your entire meal in one oven, no stovetop burners needed) and your water use (less to wash when you're done). I also think it just makes cooking at home easier, so you're more likely to stay home than have take out delivered or drive to a restaurant. I emphasize the use of organic ingredients as well.
Living Large community, you have a chance to win a copy of The Parchment Paper Cookbook!
Chance #1: All you have to do to get into the drawing is make a comment on this post before 5 p.m. CST Monday, November 14.
Chance #2: You can earn two chances to win, if in your comment, you tell me also that you are a new friend and "liked" our Living Large page on Facebook! If you're already a part of our Facebook community and  "like" our Facebook page, great, you can still have two chances to win by going to my post on the Living Large Facebook page finding the post about this giveaway and sharing it with your friends (it's easy, just hit the share button. I can either see that you're a new Facebook friend and liked our page within the contest time or shared the post!)
Good luck, everyone, this is an exceptional book!