Homemade Goodness, the Stuff of Legend now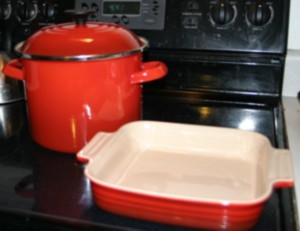 I made my mother's traditional pot of Halloween chili last night and we watched a couple of scary movies to put us in the mood.
My mother would make her chili recipe, usually the first for the season, on Halloween. My sisters would bring my nephews over and we would all warm our bellies before heading into the neighborhood to beg for candy.
In addition to homemade chili goodness, we always enjoyed going into some of our neighbors homes and receiving homemade candy and caramel apples, Rice Krispy treats, popcorn balls, hot cider, cookies and other homemade goodies.
Oh, sure, in the late 60s and early 70s, there were plenty of packaged candy too, but the neighbors who had those homemade goodies were the ones with the real treats.
As rumors spread of pins in candy bars and razor blades in apples, those homemade treats themselves became legends of the past.
I read an article after I was grown that only a handful of those incidents ever occurred, I think less than a half dozen of confirmed treat tampering across the country, but when the rumors started, you would have thought everyone knew someone who had been harmed.
Makes you wonder if it was the processed food industry that helped those rumors along.
If kids do go trick or treating today, they're not likely to find the old woman who hands out homemade popcorn balls or cookies. Even at parties, parents are encouraged not to bring any homemade goods and I find that just sad.
Today, I'm even less convinced of the homemade goodness of our homemade pot of chili, given I can usually only find organic onions and canned tomatoes at our grocery. I was able to use all natural grass fed meat I picked up on my trip to Kansas City last month, but the other ingredients, chopped green chilies, chili beans and tomato juice were all well-known brands.
Were our beans GMO? Did everything in our chili originate in the U.S?
Given that cans even contain BPA, the whole prospect of eating is a little scary, even when it's not Halloween.
What do you think of the proliferation of processed foods today and even encouraging parents not to bring homemade goodies to parties?