Boycotting Black Friday
Only three more days until the Silly Shopping Season officially gets underway, when people flock to stores to purchase socks, ties, hats and other "stuff" that can be returned on the day after the Silly Season ends.
Or, should we say, only two more days until the Silly Season gets underway, because the retail Gods in all of their wisdom decided this year to push Black Friday to Thanksgiving, opening their stores at 10 and 11 p.m. Thursday night.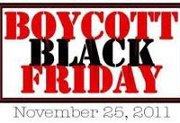 When I began my first and only retail job, at J.C. Penney, 30 years ago this fall, holidays were sacred. If we couldn't count on anything else in retail, we could at least count on spending time with our families on Thanksgiving and Christmas.
That, unfortunately, is something people working in retail can no longer count on.
"But," you say, "they don't have to be to work until that night."
Wrong, most retail employees don't just show up when the doors open, they typically have to be at work a couple hours ahead of time to stock and do inventory, especially before such a huge event as Black "Friday," meaning people who work in a store that is opening at 10 p.m. will have to report to work by 6 or 7 p.m., which means they also had to presumably sleep before coming in.
Doesn't leave much time with their families.
Why are the stores doing this? "It's what the public wants," said an exec with one Big Box retailer.
Really?
One Target employee even began an online petition asking the giant retailer to allow their employees to spend time with their families. Many other employees have not joined the effort, saying they fear retribution.
Still others said they are "just lucky in this economy to have a job."
Seems like the old story of Scrooge vs. Bob Cratchit again. Where's the Occupy Movement when you need them?
Dale and I typically don't celebrate anymore with anyone here at Our Little House, but 30 years ago, when I worked retail, I don't have to wonder what my mother would have said had J.C. Penney decided I had to work on Thanksgiving.
My dad, who worked for the railroad, wasn't even allowed to sign up for voluntary overtime on holidays.
"Holidays,"  my mother would say, "are for family."
I'm not a Black Friday shopper and never have been, but if I were, I would be boycotting the Big Box retailers who worship the Green God and instead, I would be heading out on Small Business Saturday to do my shopping.
Oh, wait, I will be doing that anyway. We don't have a large Christmas list anymore, but the people who are still on mine will be getting something from a local business, one that still respects the rights of its workers to spend holidays with family and not make them feel lucky they have a job by forcing them to work on Thanksgiving.
What do you make of Black Friday actually starting on Thanksgiving this year?