The Witching Season at Our Little House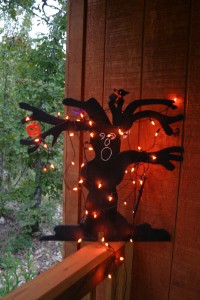 One of my favorite holidays to decorate for has always been Halloween.
It goes back to my childhood, as I knew then that Christmas and my birthday were just a couple short months away.
We always had such cool decorations, too. Little wax figures and pumpkins. They cost .10 cents then at the Dime Store, but are worth a fortune to collectors now.
Since we've moved from the city, we don't have trick or treaters and we don't have any little kids, but I still enjoy getting out my Halloween décor.
I don't decorate as much as I used to because we just don't have the room. My décor is limited to a door hanging at The Belle Writer's Studio, a lighted Halloween tree on the porch there to provide creepy orange glow when I'm working in the pre dawn hours, a windsock, an electric jack o lantern inside, a ceramic ghost I painted during my ceramic period and a cute little stuffed pumpkin a friend from high school brought the first year we had our now annual slumber parties.
At Our Little House, a small ceramic pumpkin that I bought for my first apartment and tablemats are it.
October 1st is my signal its time to get out the décor, so doing this on Sunday after getting the surface clutter cleared from the studio was also on my to-do list.
Decorating for the holidays is a challenge when you live in a small space, but like everything else, we have to only put out what we truly love, things that have special meaning, and pack away or get rid of the rest.
Do you like decorating for Halloween?