Projects that just had to get Done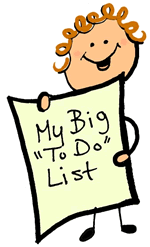 You know how when a project or two is haunting you and it drives you crazy until you can get it complete?
This was how it was for both of us at Our Little House this past weekend.
Dale has been waiting since spring for the perfect weekend to stain the Party Deck. We had an unusually cool and wet spring followed by an ungodly hot summer. We had perfect weather this past weekend and time is running out before it gets cold again.
I had been waiting for time, mostly, to organize my office once again. I wrote previously about finding the perfect little mailbox to put on The Belle Writer's Studio, so mail wouldn't be overflowing on the table at the house.
Since we've been so busy this summer, the mailbox didn't get sanded and painted, or hung, so mail was everywhere, strewn between the table in Our Little House to piled up on every available surface, waiting for filing, in the studio.
It had gotten so out of hand, I couldn't even keep my writing assignments straight, much less what needed to be done or paid and when.
So, on this beautifully perfect day we had on Sunday, Dale worked outside on the deck and I reluctantly gave up my Kindle and lounge chair to go inside and get some organization back so I could star the week and new month off on the right foot.
I got everything on the surface organized and will work on my business accounting and organizing the filing cabinets on the next rainy, cold day, of which I'm sure there will be many soon.
I posted this quote to Living Large's Facebook page yesterday: "Your house is only home when you feel you have jurisdiction over the space." ~ Joan Kron.
It's really true. I love my studio, but I didn't feel I had jurisdiction over the space and it felt chaotic and made me anxious.
When I walked in on Monday morning, the atmosphere was once again calming and settling, allowing me to feel much more productive.
That is good enough reason to give up a perfect day outside.
The bonus yesterday was that Dale discovered a new appetizer, bacon wrapped jalapenos, which are so simple, you wouldn't think them to be that awesome:
6 jalapenos
Cream cheese
6 slices of bacon (we used honey maple bacon, but pepper bacon would be good too)
Split the jalapenos and remove the seeds. Stuff with cream cheese. Wrap a piece of bacon around each, using toothpicks to hold the bacon in place. Place in oven (or in the grill as we did) on about 350 degrees for approximately 30-45 minutes, or until bacon is done and slightly crispy.
What did you accomplish this weekend? How do you handle projects that drive you crazy until you can get them done?